Krazy Kat: A Celebration of Sundays (Hardcover)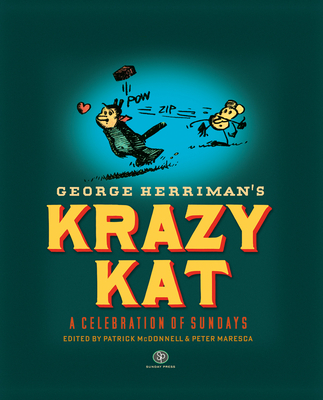 Description
---
A Centennial Celebration! Finally, Krazy Kat as it was meant to be seen.

It's the eternal triangle of the comics -- Kat, Mouse, and Pupp, along with the catalytic brick. Here are their glorious, poignant, and hilarious stories from the genius of George Herriman, reprinted for the first time in their original size and colors. Included in the 14 x 17-inch collection is a sampling of all Herriman's creations for the Sunday newspaper comics from 1901-1906: Professor Otto, The Two Jackies, Major Ozone, and more, many of which have never been reprinted before. Now, 100 years after Ignatz tossed his first brick, step back in time to delight in the timeless tales of America's great comic strip artist and his greatest creation, Krazy Kat.

Includes contributions by Herriman biographer Michael Tisserand and artist/comic historian Art Spiegelman. Each book includes a set of "Brick in the Head" postcards with ten classic comic characters getting bricked.

From the publishers of the celebrated and much-awarded Little Nemo in Slumberland: So Many Splendid Sundays! deluxe oversized reprint edition, come 135 full-size Sunday pages from 1916-1944 -- plus dozens more early comics from George Herriman.
About the Author
---
The creator of the zenith of comic strip art, Krazy Kat, George Joseph Herriman was born in 1880, in New Orleans. As a teenager, his family moved to Los Angeles to escape the restrictions of the Jim Crow laws.From 1901 and 1910, Herriman produced his first regular strip, Musical Mose, as well as other features like Acrobatic Archie, Professor Otto and His Auto, Major Ozone's Fresh Air Crusade, Mary's Home from College, and Gooseberry Sprig. 1910 launched The Family Upstairs, for The New York Evening Journal, a Hearst paper. The strip would feature the first appearance of Herriman's most well-known characters, Krazy Kat and Ignatz the mouse, who received their own strip in 1913. When The Family Upstairs ended in 1916, Herriman began another project, Baron Bean, which would run for three years. The subtlety and surrealism of Krazy Kat never made it a hit with the general public, but it was popular in artistic and intellectual circles, and William Randolph Hearst was an ardent supporter. With Herriman's passing in 1944, Hearst ordered the strip cancelled, rather than continued with another artist.