Soft Skills: The Software Developer's Life Manual (Paperback)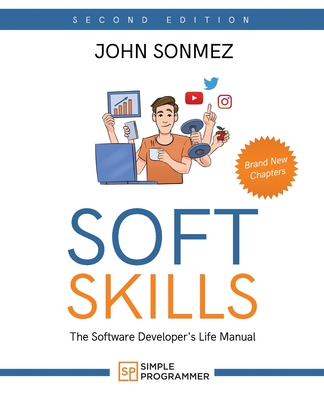 $24.95

Usually Arrives in 3-5 Days
(This book cannot be returned.)
Description
---
You became a developer for one reason...
...because you love solving tough problems. Why aren't you happy? When you started to code, the beauty of the pure logic captured your heart. Hard work
and thousands of hours sitting at the keyboard have taught you how to develop software.
Still, there's something missing. What didn't they teach you in school? Success as a Software Developer requires skill and something nobody talks about,
mindset. If you're not planning for your future, you'll end up in a dead-end job you hate.
The secret lies away from the computer. John uses a simple style to teach topics that you never knew you needed. This isn't
theory, it's proven through the results that let him retire at 33-years old.
You'll learn:
Ways To Land The Job, Keep The Job And Climb The Corporate Ladder
How To Stand Out From Your Competition
10-Step Process To Learn Anything
What To Do With Your Paycheck to Maximize Your Earnings
Why Healthy Living and Exercise are Crucial
Ways to Build Your Brand
You'll love this unique career guide, because it isn't about writing a great resume, it's about
building one that will land you the dream job and all the other things that go with it.
Get it now.