The 90 Day Life: How to Live More in 3 Months Than You Have in 3 Years (Paperback)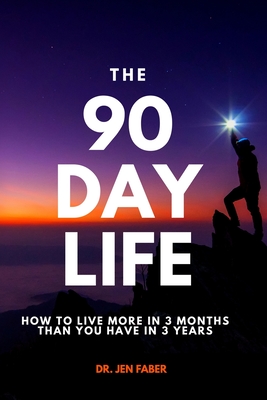 $9.99

Usually Arrives in 3-5 Days
(This book cannot be returned.)
Description
---
Accelerate a lifetime of goals into 90 days, without letting fear or procrastination get in the way.
The truth is, society uses traps to keep us stuck in the grind, the opinions of others keep us feeling small, and our own guilt keeps us locked in. You are capable of so much more, and you can turn things around quickly. Feeling trapped in a downward spiral of stress and burnout, Elle walked away from her private practice and the 9-5 path to pursue her deeper dreams of exploring the world and becoming a mountaineer. She did this by narrowing her goals down into one 90 day period of her life...and it worked. Now, it's your turn.
The 90 Day Life: How to Live More in 3 Months Than You Have in 3 Years
, reveals that process and the real-life way to achieve your deeper goals, without getting frustrated with self-help hope or platitudes that you've heard a thousand times. This is honest, raw, and real. In The 90 Day Life, you'll discover:
How to Shed Emotional Weight - Get rid of guilt, regret, and shame and start fresh.
How to Biohack Your Beliefs - Get rid of negative thoughts by rewiring your brain.
Never Set a Goal Again - Why self-help goal setting fails and what to do instead.
Focus on the Main Thing - Simplify your ambition by dialing in on the key change you want to make.
Shape Your Identity - Create WHO you need to become to get the life you want.
Using the Summit Window - Urgency to act now before it's too late.
The Art of Needle Movers - The most important actions that create change fast.
Fear-Proof Your Life - Overcome any emotion, excuse, or compromise that gets in your way.
Use The Expedition Method - The plan that is easy to execute, safe to complete, with high reward.
Case-study examples showing you how people from all walks of life have applied The 90 Day Life to achieve what they thought was once impossible.
Gut checks and self-assessments that get to the heart of what needs to change and how to fix it.
Plus when you order your copy today, you'll receive the following 4 bonuses for free:
BONUS #1: Epic Life Blueprint Course
BONUS #2: 40+ Page Workbook
BONUS #3: Mastering Time Course
BONUS #4: Accelerate Your Life Goals Course
Order your digital copy today and get the exact methods to break free from conventional thinking and build an epic life on your terms.
Grab your copy now by clicking the "Buy Now with 1-Click" button at the top of this page
About the Author
---
Dr. Jen Faber, D.C., international mindset coach and "Top 10 Wellness Leader to Watch," empowers people to break away from burnout in life to live the life of their dreams. She started her career as a chiropractor and built a thriving six-figure house call practice, then transitioned to coaching over 5,000 health and wellness professionals out of practice burnout. Realizing that something in her life was missing, Dr. Jen sold her practice and everything she owned to live out of a suitcase and rediscover her purpose. After pivotal lessons in life, loss, and impermanence, she is expanding her mission by teaching unconventional ways to think, dream, and live, by breaking past fear and doubt, so people take advantage of the time right in front of them, rather than put their lives on hold. Order your copy today and get $370 worth of bonuses (including the audiobook, workbook, and life assessment) for FREE by going to 90daylifebook.com/amazon-bonuses.