Dad (Paperback)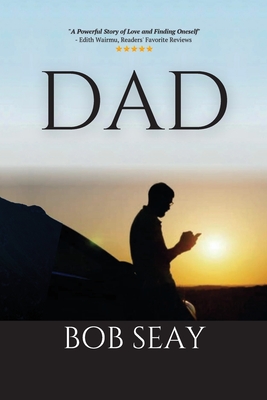 $12.99

Usually Arrives in 3-5 Days
Description
---
WINNER OF A 2021 INDIEREADER DISCOVERY AWARD
Runner-Up in the Literary-Humor category for the 2021 Maxy Awards
2021 National Indie Excellence Award Finalist
"The prose itself is beautiful to read, and the plot is gripping. I strongly recommend this book to anyone who loves a book that goes deeper than surface level as it examines the things that makes us human." - Andrea Ramirez
Can an underachieving son reconnect with his father before it's too late?
Jacob's life is already complicated enough. Now Dad, whose mind isn't as sharp as it once was, is driving out for a visit. Or he was, before he got lost along the way. Now it's up to Jacob to find him and reconnect. A touching story about families, relationships, and aging parents.
"A funny and heartbreaking novel about a man with a broken marriage, a dubious writing career, and a father with dementia who sometimes disappears while driving on his own. The novel is both a tender road trip story and a sweet romantic comedy with descriptions so vivid it hardly reads like fiction." - IndieReader Review
Review by Don Roswell, 5 stars, April 21, 2021 For starters, Bob Seay can write. I mean, really write. It's no wonder his main character, Jacob, makes a living (albeit unethically) writing scholastic papers for others. Jacob's already disrupted life (broken marriage, failed teaching career) is being turned on its head by his father's digression into dementia. It seems to me a few reviewers missed the point of all of this. It is not really a story about Jacob's cross-country treks to get his wandering father home. Rather, it is his own story, a search by an underachiever whose various relationships and father's eroding health are forcing him to come to terms with his own mortality and need for purpose. By choosing to tell the tale in first-person present narrative, Seay crafts a story that moves at a good pace and touches all the emotional bases. Especially at the ending, when any thinking reader should be deeply moved. Well done."