Android Phones for Dummies (For Dummies (Lifestyle)) (Paperback)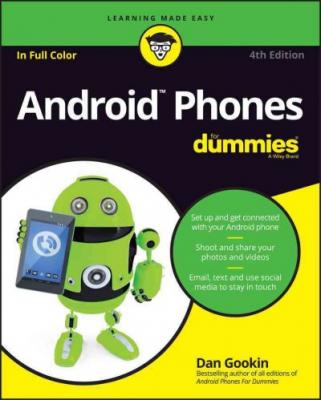 Description
---
Your full-color guide to putting your Android to work for you
Your smartphone is essentially your lifeline--so it's no wonder you chose a simple-to-use, fun-to-customize, and easy-to-operate Android. Cutting through intimidating jargon and covering all the features you need to know about your Android phone, this down-to-earth guide arms you with the knowledge to set up and configure your device, get up and running with texting and emailing, access the Internet, navigate with GPS, synch with a PC, and so much more.
Whether you're new to Android phones or have just upgraded to a new model, Android Phones For Dummies makes it fast and easy to make your new smartphone your minion. Written by bestselling author Dan Gookin, it walks you through the basics in a language you can understand before moving on to more advanced topics, like dialing tricks to forward calls, working with predictive text, accessing special characters, manipulating the touch screen, and using a USB connection to synchronize your stuff.
Set up your phone and configure its settings
Play games, listen to music, and start shooting photos and videos
Join the conversation and have fun with social media
Make your life easier with Google Voice typing
No matter how you slice it, life with an Android phone is more organized and fun--and this book shows you how to make the most of it.
About the Author
---
Dan Gookin is the gizmo geek and technology author who wrote the first For Dummies book in 1991. His skill at making technology understandable (and even fun) launched a phenomenon. Dan has written more than 130 books, with 12 million copies in print and translations into more than 30 languages. He also maintains a useful website, www.wambooli.com.