Live Long And . . .: What I Learned Along the Way (Hardcover)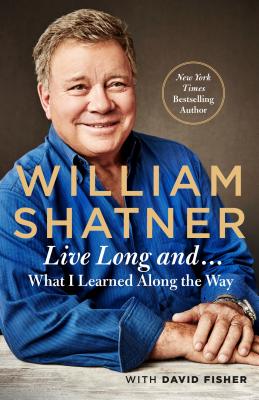 Description
---
Star Trek legend and veteran author William Shatner discusses the meaning of life, finding value in work, and living well whatever your age.
"I have always felt," William Shatner says early in his newest memoir, that "like the great comedian George Burns, who lived to 100, I couldn't die as long as I was booked." And Shatner is always booked.
Still, a brief health scare in 2016 forced him to take stock. After mulling over the lessons he's learned, the places he's been, and all the miracles and strange occurrences he's witnessed over the course of an enduring career in Hollywood and on the stage, he arrived at one simple rule for living a long and good life: don't die.
It's the only one-size-fits-all advice, Shatner argues in Live Long and..:What I Learned Along the Way, because everyone has a unique life—but, to help us all out, he's more than willing to share stories from his unique life. With a combination of pithy humor and thoughtful vulnerability, Shatner lays out his journey from childhood to peak stardom and all the bumps in the road. (Sometimes the literal road, as in the case of his 2,400-mile motorcycle trip across the country with a bike that didn't function.)
William Shatner is one of our most beloved entertainers, and he intends never to stop entertaining. His funny, provocative, and poignant reflections offer an unforgettable read about a remarkable man.
About the Author
---
William Shatner played Captain Kirk of the USS Enterprise on Star Trek from 1966 to 1969 and in seven Star Trek movies. He also played Police Sergeant T.J Hooker, from 1982 to 1986, and has worked as a musician, producer, director, and celebrity pitchman, recently for Priceline.com. He has won two Emmys and a Golden Globe for his role as attorney Denny Crane on the TV drama Boston Legal.

David Fisher is the author of more than twenty New York Times bestsellers and coauthor of Bill O'Reilly's Legends and Lies series. His work has also appeared in most major magazines and many newspapers. He lives in New York with his wife and two sons.
Praise For…
---
"Frank and witty ... Shatner movingly reflects on his long life as a gifted, troubled, hard-working entertainer." —Publishers Weekly