Gun Barons: The Weapons That Transformed America and the Men Who Invented Them (Hardcover)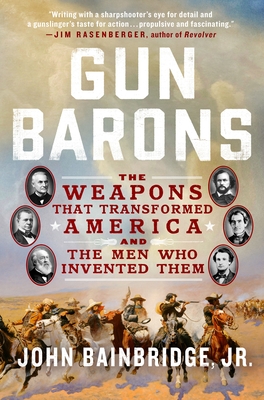 $29.99

Usually Arrives in 3-5 Days
Description
---
John Bainbridge, Jr.'s Gun Barons is a narrative history of six charismatic and idiosyncratic men who changed the course of American history through the invention and refinement of repeating weapons.

Love them or hate them, guns are woven deeply into the American soul. Names like Colt, Smith & Wesson, Winchester, and Remington are legendary. Yet few people are aware of the roles these men played at a crucial time in United States history, from westward expansion in the 1840s, through the Civil War, and into the dawn of the Gilded Age. Through personal drive and fueled by bloodshed, they helped propel the young country into the forefront of the world's industrial powers.

Their creations helped save a nation divided, while planting seeds that would divide the country again a century later. Their inventions embodied an intoxicating thread of American individualism—part fiction, part reality—that remains the foundation of modern gun culture. They promoted guns not only for the soldier, but for the Everyman, and also made themselves wealthy beyond their most fevered dreams.

Gun Barons captures how their bold inventiveness dwelled in the psyche of an entire people, not just in the minds of men who made firearm fortunes. Whether we revere these larger-than-life men or vilify them, they helped forge the American character.
About the Author
---
John Bainbridge, Jr. is a freelance writer and former reporter for The Baltimore Sun and Legal Affairs Editor for The Daily Record in Maryland. He coauthored the nonfiction book, American Gunfight: The Plot to Kill Harry Truman and the Shoot-out that Stopped It (Simon & Schuster 2005). Bainbridge has also written for magazines, including Smithsonian and Audubon. He practiced law in the private sector, served as a law clerk for judges on Maryland's highest court, and worked as a Maryland Assistant Attorney General.
Praise For…
---
"A well-told chronicle." –Wall Street Journal

"Bainbridge's volume is more than a history of the origins of America's gun industry, it's a history of 19th century America ... [A] lively, enjoyable account of the men who created modern guns, the modern arms industry, and, in their own way, modern America." –Washington Examiner

"Artful…immersive…Gun Barons is a great read for every firearm enthusiast, providing us with a glimpse into what some consider to be the 'golden era' of arms development." –American Rifleman

"An interesting and accurate history of the firearms industry and the eccentric, colorful men who founded it." –Ricochet

"[Bainbridge] delves into the colorful biographies of America's leading gun manufacturers ... brisk and entertaining." --Publishers Weekly

"Knowing the technical and commercial history of America's obsession will cast light for readers both for and against gun control." --Booklist

"Writing with a sharpshooter's eye for detail and a gunslinger's taste for action, John Bainbridge brings to vivid life the 19th century legends who helped invent America by inventing the perfect tools for killing. It's not all pretty history, but in Bainbridge's deft hands it is always propulsive and fascinating, and very often funny and moving. Deeply researched, rich in insight, Gun Barons widens our understanding of our peculiar American heritage even as it enchants us with its masterful prose." --Jim Rasenberger, author of Revolver: Sam Colt and the Six-Shooter That Changed America

"Their names--Colt, Remington, Smith & Wesson, Winchester, et al.--have long been a constant in our national consciousness. But who were they, really, these men who made these famous guns? And how did they do it? With skill and flair, John Bainbridge, Jr., cuts through the myths, romance, and propaganda to deliver true accounts of inspired drive and monomania, of catastrophic mistakes and vaults of genius. As Bainbridge reminds us, Americans love and hate their guns. The real story of these weapons and those who created them is, in many ways, a revealing and trenchant story of our country." --Doug J. Swanson, author of Cult of Glory: The Bold and Brutal History of the Texas Rangers

"A dazzling epic of inventors, wars, arms, and men. The interwoven stories of these titans, as they collaborate, quarrel, and fight for contracts, makes for high drama. Bainbridge's passion for the cold beauty of the firearms inspires radiant prose. Gun Barons, like a well-made gun, delivers a powerful punch." --Daniel Mark Epstein, author of The Lincolns: Portrait of a Marriage

"Rarely do vivid writing, brisk narrative and in-depth new research co-exist within the same set of covers, but that is the happy reality of John Bainbridge's superb Gun Barons, which tells the story of the men who made the guns that won the west--and the east, and the north and the south." --Stephen Hunter, author of Targeted and Game of Snipers

"As a SEAL Team Sniper I was amazed to see the effect on history by something as simple as a revolver. Had the American Indians had these first; history would have been quite different. This book is a great read for everyone, and you don't have to like guns to appreciate the historical facts. But like them or not, this book proves that guns have, and continue to shape our world." –Howard Wasdin, author of SEAL Team Six

"An informative, fascinating look at the inventors and businessmen who made America the arsenal of the world by taking gun production from cottage to factory. Along the way they perfected interchangeable parts, mass production, and mightily simulated the machine tool industry, revolutionizing the manufacture of things as diverse as clocks, sewing machines, typewriters and many of the other implements that shaped the 19th and 20th Centuries." --Stephen Coonts, bestselling author of The Art of War

"John Bainbridge's fast-paced history of American firearms is a compelling tale of action and ingenuity. From Colt to Wesson to Winchester, from the Mexican War to the Crystal Palace Exhibition to the Battle of the Little Bighorn, Bainbridge has written himself a bullseye." --James Grant, author of John Adams: Party of One