The Enemy Beside Me: A Novel (Hardcover)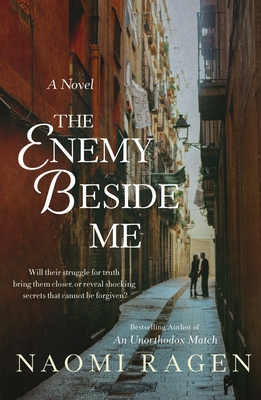 $31.00

Usually Arrives in 3-5 Days
Description
---
Inspired by true events, Naomi Ragen's The Enemy Beside Me is a powerful, provocative novel about two people fighting for reconciliation over unforgivable crimes of the past.

Taking over from her father and grandfather as the head of the Survivor's Campaign, an organization whose purpose is to bring Nazi war criminals to justice, Milia Gottstein has dedicated her life to making sure the voices of Holocaust victims will never be silenced. It is an overwhelming and heartbreaking mission that has often usurped her time and energy being a wife to busy surgeon Julius, and a mother and grandmother. But now, just as she is finally ready to pass on her work to others, making time for her personal life, an unexpected phone call suddenly explodes all she thought she knew about her present and her future.

In the midst of this personal turmoil, Milia receives an invitation to be the keynote speaker at a Holocaust conference in Lithuania from Dr. Darius Vidas, the free spirited, rebellious conference head. Despite suspecting his motives—she is, after all, viewed as a 'public enemy' in that country for her efforts to have them try war criminals and admit their historic responsibility for annihilating almost their entire Jewish community, including her own family—she nevertheless accepts, having developed a secret agenda of her own. But as Milia and Darius begin their mission, shared experiences profoundly alter their relationship, replacing antagonism and suspicion with a growing intimacy. However, this only ramps up the hostile forces facing them, threatening their families, livelihoods, and reputations, and forcing them into shocking choices that will betray all they have achieved and all that has grown between them.
About the Author
---
Naomi Ragen is an award-winning novelist, journalist and playwright. Her first book, Jephte's Daughter, was listed among the one-hundred most important Jewish books of all time. Her bestselling novels include Sotah, The Covenant, The Sisters Weiss, and Devil in Jerusalem. An outspoken advocate for women's rights, and an active combatant against anti-Israel and anti-Semitic propaganda through her website, she has lived in Jerusalem since 1971. An Observant Wife is her thirteenth novel.