Immunity Index: A Novel (Paperback)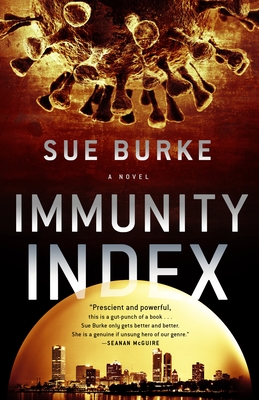 $16.99

On Our Shelves Now - May Be on Hold for Another Customer
Description
---
Sue Burke, author of Semiosis and Interference, gives readers a near-future, hard sci-fi novel. Immunity Index blends Orphan Black with Contagion in a terrifying outbreak scenario.

Bustle's 40 Best New Books May 2021

In a US facing growing food shortages, stark inequality, and a growing fascist government, three perfectly normal young women are about to find out that they share a great deal in common.

Their creator, the gifted geneticist Peng, made them that way—before such things were outlawed.

Rumors of a virus make their way through an unprotected population on the verge of rebellion, only to have it turn deadly.

As the women fight to stay alive and help, Peng races to find a cure—and the cover up behind the virus.
About the Author
---
Sue Burke spent many years working as a reporter and editor for a variety of newspapers and magazines. She is a Clarion workshop alumnus, and she has published more than 30 short stories. Her debut science fiction novel, Semiosis, published to great critical reviews and made several "Best Of" lists. She is also the author of Interference and Immunity Index.
Praise For…
---
Praise for Immunity Index

"This hits close to home."—Publishers Weekly

"This dystopian biothriller reads like a 21st-century version of Michael Crichton's The Andromeda Strain, crossed with George Orwell's 1984. . . . hopeful, heartbreaking, and compelling at every turn. Highly recommended for readers of dystopian science fiction or political technothrillers."—Library Journal, starred review

"A fast-paced hard-sf thriller… Burke imparts detailed discussions on genetics within a dramatic and thought-provoking story of inequality, humanity and family. For fans of the Orphan Black television series or Chuck Wendig's Wanderers (2019)."—Booklist

"Prescient and powerful, this is a gut-punch of a book . . . Sue Burke only gets better and better. She is a genuine if unsung hero of our genre."—Seanan McGuire

"Riveting world building by a rising star of science fiction."—David Brin

Praise for Semiosis

"This is up there with Ursula K. Le Guin: science fiction at its most fascinating and most humane."—Thrillist

"A fascinating world."—The Verge

"A solid debut."—SFRevu

"A magnetic meditation on biochemistry and humanity."—Locus Online

"This first-contact tale is extraordinary."—Library Journal (starred review)

"Sharp, evocative . . . Semiosis unfolds the old science fiction idea of first contact in ways that are both traditional and subversive."—The Christian Science Monitor

"A clever, fascinating, fun and unique debut."—Kirkus Reviews

"Burke's world building is exceptional, and her ability to combine the intricacies of colonization with the science of botany and theories of mutualism and predation is astounding." —Booklist

"Impressive debut novel . . . lush . . . beautiful."—Publishers Weekly, starred review