Under Pressure: A Lucas Page Novel (CD-Audio)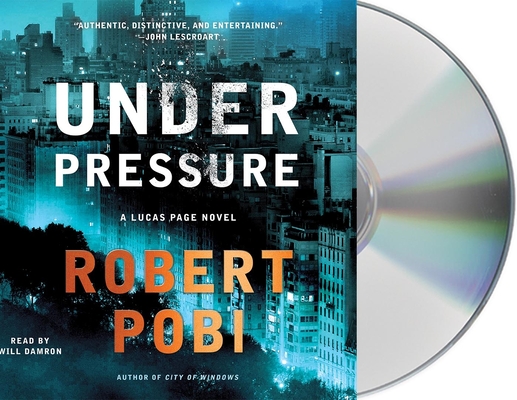 Other Books in Series
This is book number 2 in the Lucas Page series.
Description
---
"This knotty thriller is all the more absorbing because of narrator Will Damron, who captures the quirkiness and humor of its brilliant protagonist, Dr. Lucas Page...This fast-paced fiction will absorb the listener." -- AudioFile Magazine

A series of deadly explosions rock the city of New York and with too many victims and no known motive, the F.B.I. turns once again to Dr. Lucas Page in Robert Pobi's Under Pressure.

On a beautiful October evening, New York City's iconic Guggenheim Museum is closed for a tech company's private gala. Until an explosion rocks the night, instantly killing 702 people, including every single attendee—yet the damage to the building itself was minimal.

An explosion of that precision was no accident and, in response, the FBI mobilizes its entire team -- but the sheer number of victims strains their resources. Were all 702 victims in the wrong place at the wrong time, or was there only one target and 701 unlucky bystanders? That many victim files is a staggering amount of data to sort through and Brett Kehoe, Special Agent in Charge of Manhattan, decides that he can't do this without more computational power.

Dr. Lucas Page, astrophysicist, university professor, and former FBI agent, is uniquely gifted for the task at hand—he can visualize a crime scene as if he was a bystander and can break down any set of data at a glance. Even though Page wants nothing to do with the FBI, with his city under attack and his family at risk, he steps in to find a killer in a haystack before they strike again.

A Macmillan Audio production from Minotaur Books

"Robert Pobi's second thriller featuring the mathematician-astrophysicist Dr. Lucas Page, starts with a big bang....Each of the characters in Mr. Pobi's complexly plotted book is skillfully drawn, but Lucas Page is one of a kind" -- Wall Street Journal
About the Author
---
Robert Pobi is the author of several novels, including the international bestsellers Bloodman and Harvest, as well as the Lucas Page thrillers, which begin with City of Windows. He lives in Canada.