The Girl Who Died: A Thriller (Paperback)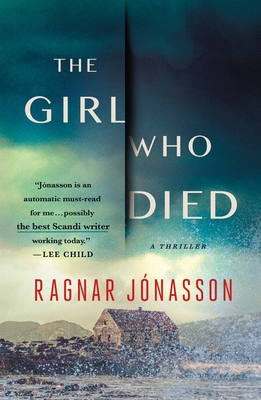 List Price: $19.00
Our Price: $17.99
(Save: $1.01 5%)
On Our Shelves Now - May Be on Hold for Another Customer
Description
---
THE NAIL-BITING NEW STORY FROM THE MILLION COPY BESTSELLING AUTHOR

"Is this the best crime writer in the world today? If you're looking for a mystery to get lost in during lockdown..." —The Times, UK

"A world-class crime writer...One of the most astonishing plots of modern crime fiction" —Sunday Times, UK

"It is nothing less than a landmark in modern crime fiction." —The Times, UK

From Ragnar Jónasson, the award-winning author of the international bestselling Ari Thór series, The Girl Who Died is a standalone thriller about a young woman seeking a new start in a secluded village where a small community is desperate to protect its secrets.

Teacher Wanted At the Edge of the World

Una wants nothing more than to teach, but she has been unable to secure steady employment in Reykjavík. Her savings are depleted, her love life is nonexistent, and she cannot face another winter staring at the four walls of her shabby apartment. Celebrating Christmas and ringing in 1986 in the remote fishing hamlet of Skálar seems like a small price to pay for a chance to earn some teaching credentials and get her life back on track.

But Skálar isn't just one of Iceland's most isolated villages, it is home to just ten people. Una's only students are two girls aged seven and nine. Teaching them only occupies so many hours in a day and the few adults she interacts with are civil but distant. She only seems to connect with Thór, a man she shares an attraction with but who is determined to keep her at arm's length.

As darkness descends throughout the bleak winter, Una finds herself more often than not in her rented attic space—the site of a local legendary haunting—drinking her loneliness away. She is plagued by nightmares of a little girl in a white dress singing a lullaby. And when a sudden tragedy echoes an event long buried in Skálar's past, the villagers become even more guarded, leaving a suspicious Una seeking to uncover a shocking truth that's been kept secret for generations.
About the Author
---
RAGNAR JÓNASSON is an international number one bestselling author who has sold over three million books in thirty-six countries worldwide. His books include the Dark Iceland series and the Hulda series. Jónasson was born in Reykjavik, Iceland, where he also works as an investment banker and teaches copyright law at Reykjavik University. He has previously worked on radio and television, including as a TV news reporter for the Icelandic National Broadcasting Service, and, since the age of seventeen, has translated fourteen of Agatha Christie's novels. Jónasson is the co-founder of the Reykjavik international crime writing festival Iceland Noir. His critically acclaimed international bestseller The Darkness is soon to be a major TV series, and Outside is soon to be a feature film. Jónasson lives in Reykjavik with his wife and two daughters.
Praise For…
---
Ragnar Jonasson hailed as one of "the heirs to the Agatha Christie crown" by The Daily Telegraph (UK).

A Sunday Times (UK) top ten bestseller!

"[Chilling] and atmospheric. Jonasson's writing makes you feel claustrophobic, like you are really trapped at the end of the world... If you are looking for a dark and chilling Nordic Noir, look no further than The Girl Who Died." —Mystery & Suspense

"In Jonasson's books, the harsh and unforgiving Icelandic winter might as well be its own character...a perfect storm of danger and intrigue." —New York Post

"[A] masterfully conceived horror novel...Ragnar Jonasson's impeccable plotting is really a wonder of the crime genre." —Dayton Daily News

"With his trademark elegant prose and atmospheric sense of place, Jónasson weaves a slow-burning, haunting tale with a chilling ending." —Sunday Express (UK)

"As in all Jónasson's novels, The Girl Who Died features a cast of fascinating characters, a riveting plot, and a sense of a country that is unique for its language and culture. This is another outstanding Icelandic mystery." —Marilyn's Mystery Reads blog

"This stand-alone, a mist-shrouded blend of horror and psychological thriller, works in every way." —Booklist (starred review)

"The mystery of what exactly is going on in Skálar will hook Jonasson's readers as much as it does Una, and the author expertly builds intrigue and suspense with each passing page...Known for his grittier Dark Iceland series of crime thrillers, Jonasson opts for a more moody, surreal tone in The Girl Who Died...[a] slow-building sense of dread and unease." —BookPage

"The Girl Who Died delivers Jónasson's usual sublime atmospheric puzzle but with bonus chills, courtesy of an apparently haunted house...Not for the first time, Jónasson demonstrates a gift for capturing the particular loneliness that attends physical isolation." —Shelf Awareness

"An atmospheric, authentically shivery ghost story with criminal trimmings." —Kirkus Reviews

"Far superior to most similarly themed thrillers." —Publishers Weekly

Praise for Ragnar Jonasson:

"Jonasson is an automatic must-read for me ... possibly the best Scandi writer working today." —Lee Child, internationally bestselling author of the Jack Reacher thrillers

"A world-class crime writer" —The Sunday Times, UK

"Jónasson is a unique voice in this genre" —The Times Literary Supplement, UK

"Is this the best crime writer in the world today?" —The Times, UK

"Few writers at work today conjure atmosphere with such power" —A.J. Finn

"Ragnar does claustrophobia beautifully" —Ann Cleeves

"Ragnar Jonasson is the Stephen King of Icelandic thrillers." —She Reads

Praise for the Hidden Iceland series:

"If you're looking for a fictional good fright to distract you from the real ones, look no further than this third entry in the Hidden Iceland series." —Washington Post on The Mist

"Jonasson turns up the tension to a nearly unendurable degree...Masterfully plotted and paced, The Mist is atmospheric, haunting, and not for the faint of heart." —BookPage

"Jónasson weaves his suspenseful tales together with remorseless logic up to a climax more nightmarish than the buildup." —Kirkus Reviews on The Mist

"This is Icelandic noir of the highest order, with Jonasson's atmospheric sense of place, and his heroine's unerring humanity shining from every page." —Daily Mail, UK on The Mist

"One of the most astonishing plots in modern crime fiction...The Mist is a triumphant conclusion to the trilogy and makes Iceland's pre-eminence in the crime genre even more marked....Jónasson is up there with the best." —The Sunday Times, UK

"The Mist confirms Ragnar Jónasson's masterly trilogy is a landmark in modern crime fiction" —The Times, UK
"One of the author's best plots, layered with that dour Scandinavian atmosphere we love." —New York Times Book Review on The Island

"Masterly...Jónasson delivers a mind-bending look into human darkness that earns its twists." —Publishers Weekly (starred review) on The Island

"Jónasson pulls no punches as this grim tale builds to its stunning conclusion, one of the more remarkable in recent crime fiction. Fans of uncompromising plotting will be satisfied." —Publishers Weekly (starred review and book of the week) on The Darkness

"The Darkness melds an insightful character study with a solid plot for an outstanding novel." —Washington Post

"A complex, fascinating mix of Icelandic community and alienation, atmospheric tension, and timely issues (immigrant exploitation and vigilante justice), Jónasson's latest series is another must-read for crime fans who follow the work of Arnaldur Indridason and Yrsa Sigurdardóttir." —Booklist (starred review) on The Darkness

"As an older female detective, Hulda is a refreshing addition to the genre. This intricate and timely work explores the dehumanization of refugees, sexism in the police force, aging, and more without overwhelming the core mystery. VERDICT: This heart-pounding tale will appeal to fans of Camilla Lackberg and those looking for a darker, more modern Agatha Christie-type mystery." —Library Journal on The Darkness

"Jónasson manages to resolve the plot lines plausibly, and is as strong as ever at combining fair-play with psychological depth." —Publishers Weekly on The Darkness

"If you think you know how frigid Iceland can be, this blistering stand-alone from Jónasson has news for you: It's much, much colder than you've ever imagined. Warmly recommended for hot summer nights." —Kirkus Reviews on The Darkness