The Secret History of Home Economics: How Trailblazing Women Harnessed the Power of Home and Changed the Way We Live (Paperback)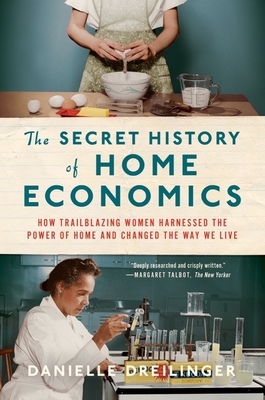 $17.95

Usually Arrives in 3-5 Days
Description
---
The surprising, often fiercely feminist, always fascinating, yet barely known, history of home economics.
The term "home economics" may conjure traumatic memories of lopsided hand-sewn pillows or sunken muffins. But common conception obscures the story of the revolutionary science of better living. The field exploded opportunities for women in the twentieth century by reducing domestic work and providing jobs as professors, engineers, chemists, and businesspeople. And it has something to teach us today.
In the surprising, often fiercely feminist and always fascinating The Secret History of Home Economics, Danielle Dreilinger traces the field's history from Black colleges to Eleanor Roosevelt to Okinawa, from a Betty Crocker brigade to DIY techies. These women—and they were mostly women—became chemists and marketers, studied nutrition, health, and exercise, tested parachutes, created astronaut food, and took bold steps in childhood development and education.
Home economics followed the currents of American culture even as it shaped them. Dreilinger brings forward the racism within the movement along with the strides taken by women of color who were influential leaders and innovators. She also looks at the personal lives of home economics' women, as they chose to be single, share lives with other women, or try for egalitarian marriages.
This groundbreaking and engaging history restores a denigrated subject to its rightful importance, as it reminds us that everyone should learn how to cook a meal, balance their account, and fight for a better world.
About the Author
---
Danielle Dreilinger was a New Orleans Times-Picayune education reporter post-Katrina and a Knight-Wallace Journalism Fellow. Previously, she wrote for the Boston Globe and worked at the Boston NPR station WGBH. She lives in North Carolina.
Praise For…
---
[A] captivating debut…Dreilinger charmed me with her account of home ec's fascinating past.
— Barbara Spindel, Wall Street Journal

Dreilinger's lively account offers a thorough look at a profession that allowed women to participate in public life even as they were barred from most jobs and areas of study…We can thank home economics for a number of taken-for-granted features of contemporary life.
— Rachel Newcomb, The Washington Post

A fascinating history of the field and of the contributions of some very determined women…[S]timulating.
— Katherine Powers, Minnesota Star Tribune

Deeply researched and crisply written.
— Margaret Talbot, The New Yorker

There's one important thing you'll fully understand after you've read The Secret History of Home Economics: our foremothers were not to be trifled with…Readers of women's history will love this book, as will general historians, feminists, and anyone with an interest in domestic arts.

— Terri Schlichenmeyer, Washington Informer

Home economics turns out to be relevant, important, in some ways revolutionary. Dreilinger tells all in this entertaining journey that shows us that almost all of what we thought we knew on the subject is wrong. Stimulating and fun!
— Mark Bittman, author of Animal, Vegetable, Junk

A pathbreaking book that unearths and presents part of the 'hidden' history of economics, in this case as practiced largely by women, and often black women at that. Think of it as the science and craft of Beckerian household production but with a managerial emphasis. If you like books on paths not taken, this one is for you.
— Tyler Cowen

Home ec…may conjure up lessons in baking blueberry muffins and sewing dresses, but in her detail-filled and fascinating book, Danielle Dreilinger dynamites that cliché with glee.
— Air Mail

[An] eye-opening history…[A] great reminder of the value of the field, and the importance of these skills for anyone at any age.
— Matthew Wheeland, Civil Eats

I grew up in the 1960s when Home Economics was required for all ninth-grade girls and meant two things: cooking and sewing. We baked cookies and served them on silver trays to the boys in Wood Shop. We sewed wraparound skirts. Some of us complained, a lot. Danielle Dreilinger's The Secret History of Home Economics is a revelation. That secret history is rich with gender and race issues, and opened the eyes of this former home ec student. It will open yours too.

— Ann Hood, author of The Knitting Circle

A fascinating work of history, extensively researched, on a subject long ignored: how home economics helped shaped American life. Full of delicious anecdotes, The Secret History of Home Economics makes the case that home ec, often maligned and misunderstood, always provided students regardless of gender with skills that make life better, and should be revived.

— Nancy Jo Sales, author of American Girls

This book tells the unexpected story of how home economics began as an intellectual haven for smart women—Black as well as white—who were otherwise blocked from studying science, but ended up as a field less rigorous and more conforming. Black women were at the forefront of this history, and their role is a revelation. Dreilinger makes a convincing case for bringing back the skills that home economics alone could teach.
— Marion Nestle, professor of nutrition, food studies, and public health, emerita, at NYU and author of Let's Ask Marion

I took home economics by choice in seventh grade, and I always assumed it was an outdated way to train budding Stepford housewives. This book made me realize that everything I thought I knew about home economics was wrong. It's a career that provided vital scientific and economic inroads for women, and a history that is so relevant today.
— Marisa Meltzer, author of This Is Big

This is an extremely interesting and engaging page-turner book…It will stimulate important dialogue among those within and outside the profession about our past and present, and what the future of the profession, education, and society should be.
— Virginia Vincenti, professor emerita and co-editor of Rethinking Home Economics

By reading Danielle Dreilinger's biography of this long overlooked and deeply influential field, we come to understand not only the secret history of home economics but the secret history of American feminism. Dreilinger's case for continuing to reinvent this too-oft maligned discipline for the 21st century provides a thoughtful—and spot on—road map for how and why schools can teach children not only to manage homes efficiently but to become lifelong advocates for racial, gender and social equality.
— Sarah Carr, education editor at the Boston Globe and author of Hope Against Hope

In an important new work revealing a surprising history, Danielle Dreilinger has rescued women home-economists from the past. Her well-written history gives us a new group of women to admire and learn from. She ends The Secret History of Home Economics with a timely call to bring back home-economics courses as a mandatory part of education. Her book will convince you that this field of study should be restored to its proper place in STEAM education for all.

— Katherine Sharp Landdeck, author of The Women with Silver Wings

Finally, someone has written a social history of American home economists that is neither patronizing nor hostile. Generations of remarkable women created and sustained a scientific profession in the face of what was, until very recently, unremitting gender bias. Kudos to Danielle Dreilinger for this very readable and very sophisticated account of the women who had such an enormous impact on American society and culture.
— Ruth S. Cowan, More Work for Mother