The Best American Mystery Stories 2019 (Paperback)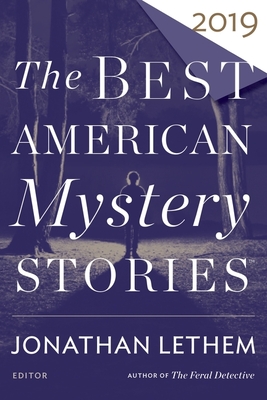 $15.99

Usually Arrives in 3-5 Days
Description
---
New York Times best-selling author of ten genre-bending novels Jonathan Lethem helms this collection of the year's best mystery short fiction. 

For Jonathan Lethem, "crime stories are deep species gossip." He writes in his introduction that "they're fundamentally stories of power, of its exercise, both spontaneous and conspiratorial; stories of impulse and desire, and of the turning of tables." The Best American Mystery Stories 2019 has its full share of salacious intrigue, guilt, and retribution. The twists and bad decisions pile up when a thief picks the wrong target or a simple scavenger hunt takes a terrible turn. What happens when you befriend a death row inmate, or just how does writing Internet clickbait became a decidedly dangerous occupation? "How can we not hang on their outcomes?" asks Lethem. "Are we innocent ourselves, or complicit?" Read on to find out.
 
The Best American Mystery Stories 2019 includes Sharon Hunt, Harley Jane Kozak, Mark Mayer, Jennifer McMahon, Joyce Carol Oates, Brian Panowich, Tonya D. Price, Ron Rash, Robb T. White, and others.
About the Author
---
OTTO PENZLER is a renowned mystery editor, publisher, columnist, and owner of New York's The Mysterious Bookshop, the oldest and largest bookstore solely dedicated to mystery fiction. He has edited more than fifty crime-fiction anthologies. He lives in New York.
Praise For…
---
"Lives up to its title...recommended for readers of psychological mysteries and thrillers as well as genre aficionados seeking the standout stories of the year."—Library Journal "Reliably strong stories… Lethem's wide-ranging sensibilities will be a welcome palate cleanse for fans clamoring for something different."—Publishers Weekly "A bonanza for fans of psychological suspense."—Kirkus —