Rebel Rose (Queen's Council) (Paperback)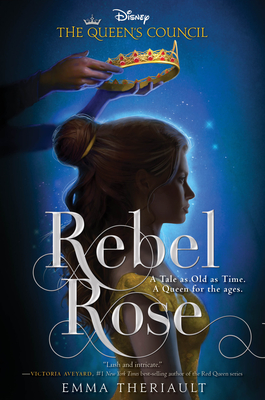 $10.99

Usually Arrives in 3-5 Days
Description
---
Now with a gorgeous new series look! In this sweeping YA fantasy series, Disney's Princesses grow up—and learn to rule—guided by the magical Queen's Council. In Rebel Rose, Belle faces a royal future in a time of turmoil.

Happily ever after is only the beginning as Belle takes on the responsibility of becoming queen and learns to balance duty, love, and sacrifice, all while navigating dark political intrigue—and a touch of magic.

It's 1789, and France is on the brink of revolution. Belle has broken the enchantress's curse, restoring the Beast to his human form and bringing life back to their castle in the principality of Aveyon. But in Paris, the fires of change are burning, and it's only a matter of time before the rebellion arrives on their doorstep.

Not so long ago, Belle dreamed of leaving her provincial home for a life of adventure. Now she finds herself living in a lush palace, torn between her past as a commoner and her future as royalty. While Belle grapples with her newfound position, there are those who would do anything to keep her from power.

When she stumbles across a magic mirror that holds a dire warning, Belle wants nothing more than to ignore the mysterious voice calling her to accept a crown she never desired. But violent factions of the revolution may already be lurking within her own castle, and doing nothing would endanger everything she holds dear. With the fate of her country, her love, and her life at stake, Belle must decide if she is ready to embrace her own strength--and the magic that ties her to so many female rulers before her--to become the queen she is meant to be.

This lush and empowering reimagining of Princess Belle blends fairy-tale lore and "the French Revolution with a Disney twist" (SLJ).
About the Author
---
Emma Theriault was born and raised in Ottawa, Canada, and thus has a penchant for gothic revival architecture and a constant craving for Beavertails. She has been everything from an enthusiastic bookseller (who once sold a book to Prime Minister Trudeau) to a purveyor of whitewater rafting adventures in the Interior of British Columbia. When not writing books about curses and blood magic, she can be found eating burritos, hiking with her boyfriend or cuddling with her cats, Gatsby and Harriet. You can follow her on Twitter @eltheriault.
Praise For…
---
"Lush and intricate, Theriault breathes new life into the tale as old as time."—-—Victoria Aveyard, #1 New York Times best-selling author of Realm Breaker and The Red Queen

Fairy-tale fans will enjoy the care and depth given to Belle's character and the touches of magic...A promising start to a new series of fairy-tale continuations grounded in historical events.——Kirkus

Theriault's writing is perfectly paced and the cast of characters developed with historical realism; fans of the movies will be satisfied by this evolution of a favorite Disney princess...The personal and national stakes of this novel root it in history but also within its backstory as a Disney classic...The French Revolution with a Disney twist, Theriault's debut is rich in historical detail while answering the long-asked question, "What happens after happily ever after?——SLJ