Wonder Woman: Earth One Vol. 1 (Hardcover)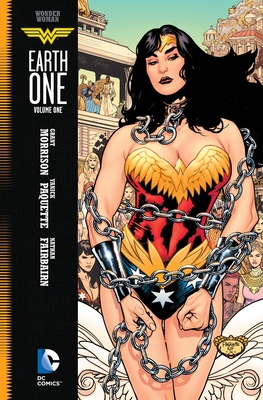 Description
---
A #1 New York Times Bestseller!

From the masterful minds of Grant Morrison (FINAL CRISIS, THE MULTIVERSITY) and Yanick Paquette (SWAMP THING, BATMAN, INC.) comes the most provocative origin of Wonder Woman you've ever seen—a wholly unique retelling that still honors her origins. 

For millennia, the Amazons of Paradise Island have created a thriving society away from the blight of man. One resident, however, is not satisfied with this secluded life—Diana, Princess of the Amazons, knows there is more in this world and wants to explore, only to be frustrated by her protective mother, Hippolyta. Diana finds her escape when Air Force pilot Steve Trevor, the first man she has ever seen, crashes onto their shores. With his life hanging in the balance, Diana ventures into the long forbidden world of men. The Amazons chase after her and bring her back to Paradise Island in chains to face trial for breaking their oldest law—staying separated from the world that wronged them. 

Thought-provoking yet reverent, thoroughly modern but still timeless, the power and courage of Paradise Island's greatest champion—Wonder Woman—is introduced in this new addition to DC Comics' New York Times best-selling Earth One original graphic novel series.
About the Author
---
Grant Morrison has been working with DC Comics for more than twenty years, beginning with his legendary runs on the revolutionary titles ANIMAL MAN and DOOM PATROL. Since then he has written numerous bestsellers — including JLA, BATMAN and New X-Men — as well as the critically acclaimed creator-owned series THE INVISIBLES, SEAGUY, THE FILTH, WE3 and JOE THE BARBARIAN. Morrison has also expanded the borders of the DC Universe in the award-winning pages of SEVEN SOLDIERS, ALL-STAR SUPERMAN, FINAL CRISIS, BATMAN, INC. and ACTION COMICS.

In his secret identity, Morrison is a "counterculture" spokesperson, a musician, an award-winning playwright and a chaos magician. He is also the author of the New York Times bestseller Supergods, a groundbreaking psycho-historic mapping of the superhero as a cultural organism. He divides his time between his homes in Los Angeles and Scotland.
Praise For…
---
"Both novices and the initiated will find great fun in thisflawlessly streamlined remolding, and, in his inimitable style, Morrison offers a fiercer, stranger, moreepic, more textured, and, incidentally, more diverse interpretation. Visualized in Paquette's gleaming,dynamic, lush, and luscious imagery, this is the most complex, powerful, and confidently sexy WonderWoman on record." 
—BOOKLIST *STARRED*

"With his signature panache and irresistible layers of metaphor, Morrison has treated [Wonder Woman] graciously. A provocative and highly contrasted view that we have not seen before."
--NEWSARAMA
 
"Morrison, Paquette, and Fairbairn have delivered a fascinating update of the character, bringing a true sense of wonder to her story."
--A.V. CLUB/THE ONION
 
"Yanick Paquette's art celebrates the clear confidence of Diana and the Amazons."
--PASTE MAGAZINE

"A triumphant blend of Golden Age concepts with modern themes... This book redefines an often misunderstood character."
—PUBLISHERS WEEKLY
 
"The combination of Diana'a adventurous spirit, curiosity and boundless compassion make this easily one of the most satisfying takes on the character in a long time."
–IGN