Justice League Dark Vol. 1: In the Dark (The New 52) (Paperback)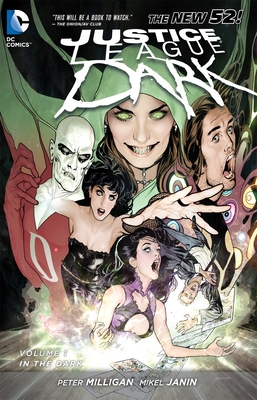 Description
---
As a part of the acclaimed DC Comics - The New 52 event of September 2011, a new type of super-team must come together when supernatural forces threaten the DCU - Justice League Dark!
The witch known as The Enchantress has gone mad, unleashing a wave of chaos that not even the combined powers of Superman, Batman, Wonder Woman and Cyborg can stop. Shade the Changing Man, Madame Xanadu, Deadman, Zatanna, Mindwarp and John Constantine may be our only hope - but how can we put our trust in beings whose very presence makes ordinary people break out in a cold sweat? Critically acclaimed writer Peter Milligan brings together an unorthodox team for the most unnatural threats. With stunning art by up and coming star Mikel Janin, Justice League Dark Vol. 1 visits the unexplored corners of the DCU!
About the Author
---
Irish writer Peter Milligan joined Vertigo with SKREEMER in 1989 which led to several other works including SHADE THE CHANGING MAN and ENIGMA. For the DC Universe, he has written Batman in DETECTIVE COMICS and is acknowledged as the driving force behind the Knightfall event. He began his comics career with England's 2000 AD, notably its Bad Company serial. He was named one of Entertainment Weekly's "it" writers in 2002. Currently he is the writer of HELLBLAZER and RED LANTERNS.
Praise For…
---
"Worthy of the adjective, but in a good way."—The New York Times