The Men Can't Be Saved: A Novel (Hardcover)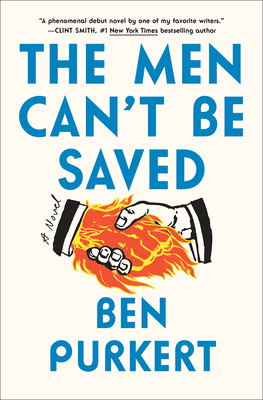 $26.00

Usually Arrives in 3-5 Days
Description
---
* A MOST ANTICIPATED BOOK OF SUMMER 2023 * NYLON * THE MILLIONS * LITHUB * DEBUTIFUL * AND MORE! *

"[Purkert is] a sharply funny observer of male foibles, 20-something angst, and the modern workplace." —WASHINGTON POST

"A 21st-Century Catcher in the Rye that examines the 'genius' worship and toxic masculinity still dominating the advertising world today. [A] muscular novel . . . startlingly funny thanks to an unforgettable narrator [with a] Jupiter-sized ego." —ESQUIRE

"I laughed more times than I can count . . . A phenomenal debut novel by one of my favorite writers." —CLINT SMITH, #1 New York Times bestselling author of How the Word Is Passed

A knockout debut novel that tackles a haunting question: What do our jobs do to our souls?

Seth is a junior copywriter whose latest tagline just went viral. He's the agency's hottest new star, or at least he wants his coworker crush to think so. But while he's busy drooling over his future corner office, the walls crumble around him.

When his job lets him go, he can't let go of his job. Unfortunately, one former colleague can't let him go either: Robert "Moon" McCloone, a skeezy on-the-rise exec better suited to a frat house than a boardroom. Seth tries to forget Moon and rediscover his spiritual self; he studies Kabbalah with an Orthodox rabbi by day while popping illegal prescription pills by night. But with each misstep, Seth strays farther from salvation—though he might get there, if he could only get out of his own way.

In his debut novel, Purkert incisively peels back the layers of the male ego, revealing what's rotten and what might be redeemed. Brimming with wit, irreverence, and soul-searching, The Men Can't Be Saved is a startlingly original examination of work, sex, addiction, religion, branding, and ourselves.
About the Author
---
Ben Purkert is the author of the poetry collection For the Love of Endings. His work appears in The New Yorker, the Nation, and the Kenyon Review, among others. He is the founder of Back Draft, a Guernica interview series focused on revision and the creative process. He holds degrees from Harvard and New York University, and he currently teaches at Rutgers. Men Can't Be Saved is his first novel.
Praise For…
---
"[Purkert's] forebears are the likes of Teddy Wayne, Joshua Ferris, Sam Lipsyte and Gary Shteyngart, all of whom have written brash and funny satires of family, workplaces and masculinity gone off the rails. That crowd of Gen X writers were in turn inspired by the schlemiel-like heroes of Saul Bellow and Philip Roth....[Purkert is]a sharply funny observer of male foibles, 20-something angst, and the modern workplace."—WASHINGTON POST

"A 21st-Century Catcher in the Rye that examines the 'genius' worship and toxic masculinity still dominating the advertising world today. [A] muscular novel . . . startlingly funny thanks to an unforgettable narrator [with a] Jupiter-sized ego."—ESQUIRE

"Purkert immerses his reader in the colorful advertising industry while posing questions about masculinity, work culture, and addiction."—THE BOSTON GLOBE

"The flash and sizzle of [Purkert's] wit really deliver."—KIRKUS REVIEWS

"A smart satire…[with] finely wrought prose and spot-on descriptions…This is great fun."—PUBLISHERS WEEKLY

"Ben Purkert sure knows what he's doing. One of many novels grappling with the alienating forces of the attention economy, it's also a cathartic workplace read."—LITHUB, Most Anticipated Summer 2023 Reads

"A knockout . . . . Purkert chips away at the ugly, entwined hearts of masculinity and capitalism."—THE MILLIONS, Most Anticipated Books of 2023

"A laugh-out-loud romp about masculinity, sex, and obsession. This is a hilarious expose about how society views working hard. Purkert cuts deep and his prose leaps off the praise."—DEBUTIFUL, Most Anticipated Books of 2023

"Ben Purkert is a magician with the pen. This is one of those unique novels that has you laughing on one page and wrestling with some of life's biggest questions on the next. A phenomenal debut novel."—Clint Smith, #1 New York Times bestselling author of How the Word Is Passed

"The Men Can't Be Saved is an experience that transcends the act of reading fiction. It is an indictment, a call to self-examine, and ask questions, but it manages this while still being playful, lighthearted, and generous. What I love most about Purkert's writing—across genres—is that it finds a perfect line between a voice that is confident, but also grounding itself in the realities of uncertain living. That is a gift, and it shines through these pages."—Hanif Abdurraqib, author of A Little Devil in America

"A witty, warm, riotously timely debut of young men (mis)behaving... Philip Roth would have loved this novel."—Joyce Carol Oates, award-winning author of Zero Sum: Stories

"Ben Purkert's The Men Can't Be Saved is a work of wit and timely power. Faith and modernity, capitalism and masculinity, sex and identity—this novel has it all, and gets away with it. The style and the intellect herein mark the coming of a major new talent."—Darin Strauss, author of The Queen of Tuesday

"Funny, witty, and incisor-sharp, Purkert nails down the hypocrisies of modern masculinity and capitalism with the graceful hand of a poet. This novel says so much so well about the absurd moment in which we, grudgingly, live."—Alexandra Kleeman, author of Something New Under the Sun

"A brilliant skewering of modern-day masculinity. Wildly gripping, charmingly funny, bone-hard, and real. Purkert is the kind of writer whose work I'll follow anywhere."—Kaveh Akbar, author of Martyr!

"In this very funny, whip-smart novel, Purkert wields his narrator's ingenuous derangement like a scalpel, dissecting our current moment with masterful precision." —Antoine Wilson, author of Mouth to Mouth