The Great Upheaval: Higher Education's Past, Present, and Uncertain Future (Hardcover)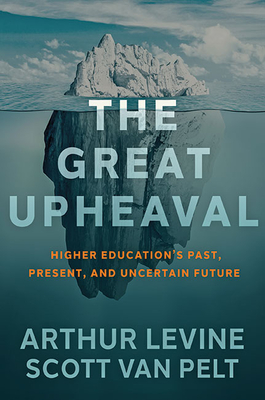 $29.95

Usually Arrives in 3-5 Days
Description
---
How will America's colleges and universities adapt to remarkable technological, economic, and demographic change?
The United States is in the midst of a profound transformation the likes of which hasn't been seen since the Industrial Revolution, when America's classical colleges adapted to meet the needs of an emerging industrial economy. Today, as the world shifts to an increasingly interconnected knowledge economy, the intersecting forces of technological innovation, globalization, and demographic change create vast new challenges, opportunities, and uncertainties. In this great upheaval, the nation's most enduring social institutions are at a crossroads.
In The Great Upheaval, Arthur Levine and Scott Van Pelt examine higher and postsecondary education to see how it has changed to become what it is today--and how it might be refitted for an uncertain future. Taking a unique historical, cross-industry perspective, Levine and Van Pelt perform a 360-degree survey of American higher education. Combining historical, trend, and comparative analyses of other business sectors, they ask
- how much will colleges and universities change, what will change, and how will these changes occur?
- will institutions of higher learning be able to adapt to the challenges they face, or will they be disrupted by them?
- will the industrial model of higher education be repaired or replaced?
- why is higher education more important than ever?
The book is neither an attempt to advocate for a particular future direction nor a warning about that future. Rather, it looks objectively at the contexts in which higher education has operated--and will continue to operate. It also seeks to identify likely developments that will aid those involved in steering higher education forward, as well as the many millions of Americans who have a stake in its future.
Concluding with a detailed agenda for action, The Great Upheaval is aimed at policy makers, college administrators, faculty, trustees, and students, as well as general readers and people who work for nonprofits facing the same big changes.
About the Author
---
Arthur Levine is a distinguished scholar of higher education at New York University's Steinhardt Institute for Higher Education Policy; a senior fellow and president emeritus of the Woodrow Wilson National Fellowship Foundation; and president emeritus of Columbia University's Teachers College. He is the author or coauthor of many books, including Generation on a Tightrope: A Portrait of Today's College Students. Scott Van Pelt is the associate director of the Wharton Graduate Communication Program at the University of Pennsylvania, where he is also a lecturer.