Call Me by Your Name: A Novel (CD-Audio)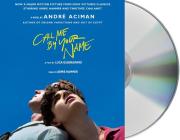 Description
---
"...Hammer's voice is brimming with such melody that, if you listen to it long enough, you can probably get drunk off it." — Vulture.com

*Now a major motion picture from director Luca Guadagnino, starring Armie Hammer and Timothée Chalamet. Winner of the 2018 Academy Award for Adapted Screenplay*
Celebrate André Aciman's sensational novel with a dynamic audiobook, read by Armie Hammer

A New York Times Notable Book of the Year
A Publishers Weekly Best Book of the Year
A Washington Post Best Fiction Book of the Year
A New York Magazine "Future Canon" Selection
A Chicago Tribune Favorite Book of the Year
One of The Seattle Times' Michael Upchurch's Favorite Books of the Year
Call Me by Your Name first swept across the world in 2007. It is the story of a sudden and powerful romance that blossoms between an adolescent boy and a summer guest at his parents' cliffside mansion on the Italian Riviera. During the restless summer weeks, unrelenting but buried currents of obsession, fascination, and desire intensify their passion as they test the charged ground between them and verge toward the one thing both already fear they may never truly find again: total intimacy. André Aciman's critically acclaimed debut novel is a frank, unsentimental, heartrending elegy to human passion.
More praise for Call Me By Your Name:
"...Armie Hammer (who plays Oliver in the movie) steps effortlessly into Elio's interior world. The result is staggering." — BookRiot

"a must-listen for anyone familiar with the book or film." — Buzzfeed
About the Author
---
André Aciman is the New York Times bestselling author of Call Me By Your Name, Out of Egypt, Eight White Nights, False Papers, Alibis, Harvard Square, Enigma Variations, and Find Me. He's the editor of The Proust Project and teaches comparative literature at the Graduate Center of the City University of New York. He lives with his wife in Manhattan.
Praise For…
---
"We read it for 20-something hours, but it was just the best 20-something hours of the last couple months, apart from spending time with my family and kids." -Armie Hammer on recording the audiobook, Vulture

"Armie Hammer's voice is so deep and viscous" -Vulture
"I will listen to this one again just to hear Mr. Hammer's voice, but I will also listen to it again to hear Dr. Aciman's words." -literatiliteraturelovers.com
"Armie Hammer's intimate whisper makes each beautiful, erotic, or painful moment bittersweet. ...his emotional tone is impeccable." - AudioFile

"Fans of the 2017 film Call Me by Your Name will recognize Armie Hammer as the actor who played Oliver, and his narration of the book takes the powerful, romantic story to a whole new level. His melodic, deep voice captivates the listener while he tells the story of Elio and Oliver's summer romance, making this a must-listen for anyone familiar with the book or film." -BuzzFeed News

"In the audiobook, Armie Hammer (who plays Oliver in the movie) steps effortlessly into Elio's interior world. The result is staggering. I found myself holding my breath though parts of this book. I'd be listening to it while cooking, and would have to stop and sit down because I couldn't concentrate on anything but his voice. ...Hammer made himself disappear until only Elio remained. His narration is so honest, so vulnerable, and so authentic..." -BookRiot

"Armie's narration was perfect!" -CollectorofBookBoyfriends
"Superb . . . The beauty of Aciman's writing and the purity of his passions should place this extraordinary first novel within the canon of great romantic love stories for everyone." —Charles Kaiser, The Washington Post Book World
"An extraordinary examination of longing and the complicated ways in which we negotiate the experience of attraction. . . . It's startling that a novel so bracingly unsentimental--alert to the ways we manipulate, second-guess, forestall, and finally reach stumblingly toward one another--concludes with such emotional depths." —Mark Doty, O, The Oprah Magazine
"This novel is hot . . . a love letter, an invocation, and something of an epitaph. . . . An exceptionally beautiful book." —Stacey D'Erasmo, The New York Times Book Review
"If you are prepared to take a hard punch in your gut, and like brave, acute, elated, naked, brutal, tender, humane, and beautiful prose, then you've come to the right place." —Nicole Krauss, author of The History of Love
"A great love story . . . every phrase, every ache, every giddy rush of sensation in this beautiful novel rings true." —Michael Upchurch, The Seattle Times
"The novel is richly, sensuously detailed . . . luminous. . . . Aciman deftly charts a burgeoning relationship that both parties want and fear." —Karen Campbell, The Boston Globe
We recommend
| | | | |
| --- | --- | --- | --- |
| | | | |
| | | | |
| | | | |
| | | | |