Reforming Philadelphia, 1682–2022 (PLAC: Political Lessons from American Cities) (Paperback)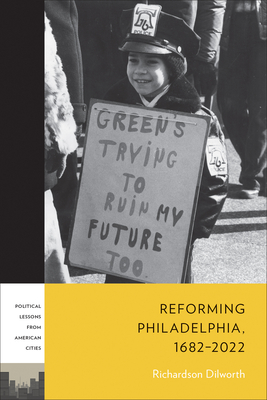 $19.95

Usually Arrives in 3-5 Days
Description
---
Reforming Philadelphia examines the cyclical efforts of insurgents to change the city's government over nearly 350 years. Political scientist Richardson Dilworth tracks reformers as they create a new purpose for the city or reshape the government to reflect emerging ideas. Some wish to thwart the "corrupt machine," while others seek to gain control of the government via elections. These actors formed coalitions and organizations that disrupted the status quo in the hope of transforming the city (and perhaps also enriching themselves).
Dilworth addresses Philadelphia's early development through the present day, including momentous changes from its new city charter in 1885 and the Republican machine that emerged around the same time to its transformation to a Democratic stronghold in the 1950s, when the city also experienced a racial transition. Focusing primarily on the twentieth and twenty-first centuries, Dilworth evaluates the terms of Mayors Frank Rizzo, Wilson Goode, and Ed Rendell, as well as John Street, Michael Nutter, and Jim Kenney to illustrate how power and resistance function, and how Philadelphia's political history and reform cycles offer a conceptual model that can easily be applied to other cities.
Reforming Philadelphia provides a new framework for understanding the evolving relationship between national politics and local, city politics.
About the Author
---
Richardson Dilworth is Professor of Politics and Head of the Department of Politics at Drexel University. He is the author of The Urban Origins of Suburban Autonomy, editor-in-chief of the Oxford Bibliographies in Urban Studies, and the editor or coeditor of nine books, including Social Capital in the City: Community and Civic Life in Philadelphia (Temple) and, most recently, with Timothy Weaver, How Ideas Shape Urban Political Development.
Praise For…
---
"In this elegant book, Richardson Dilworth combines a historian's attention to detail with a political scientist's concern for how and why it matters. Reforming Philadelphia, 1682–2022 offers not only a compelling account of one city's rich political history but also a convincing argument about the enduring power of institutions in urban politics." —Thomas J. Sugrue, Professor of History and Social and Cultural Analysis at New York University, and author of The Origins of the Urban Crisis: Race and Inequality in Postwar Detroit

"Reforming Philadelphia, 1682–2022 is an essential book for anyone wanting to learn more about Philadelphia politics while also developing a deep understanding of its history. Richardson Dilworth provides useful ways of thinking about Philadelphia politics that probably haven't occurred to many politicians. As a reform mayor myself, I now have a better appreciation of how I fit into Philadelphia's political past and future."—Michael A. Nutter, Ninety-Eighth Mayor of Philadelphia

"[A] clear, concise, and accessible introduction to the evolution of Philadelphia's municipal politics over the course of its 340-year history.... [Dilworth] offers valuable insights into the structural conditions that led to significant changes in Philadelphia city government. His contributions to our understanding of the city's political culture as well as the broader understanding of urban politics in the United States should receive a wide readership among political scientists, historians, and all others interested in Philadelphia and urban political development."—Journal of Urban Affairs

"Reforming Philadelphia examines the efforts of reformers to change the city's government over nearly 350 years. Dilworth, whose grandfather served as a 'reform' mayor of Philadelphia from 1956 to 1962, tracks efforts to revamp the city's government to reflect reform ideas of the day.... Dilworth's book explains the city's evolution and offers a framework for evaluating other cities. Summing Up: Recommended."—Choice