Murderville (Compact Disc)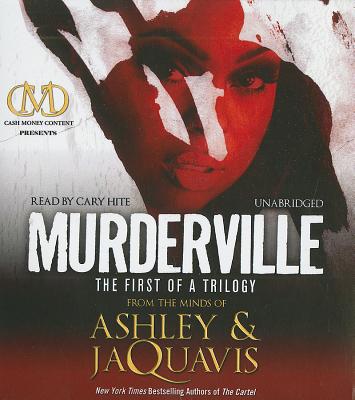 Other Books in Series
This is book number 1 in the Murderville series.
Description
---
Two children from Sierra Leone, Liberty and A'shai, are brought together by chance, only to be forced apart by the most inevitable and tragic fate. Ashley & JaQuavis bring us this classic love story set against modern life's most horrifying realities.
Liberty is dying of a fatal heart condition, though she desperately wants to survive until her twenty-fifth birthday, when her sister has promised to visit her. A'shai blames himself for not protecting Liberty, but all Liberty asks is for A'shai to tell her a story, to help her remember what brought them to this point. He knows that this is the last story he will ever tell--and the last she will ever hear.
As Liberty lies dying, A'shai walks her through their past, reliving their ill-fated journeys through the streets. Their story will take them from an arranged marriage, through Mexico's drug cartel, child brothels, and hustling in Detroit, to escaping the high-powered heads of LA's underworld. But ultimately, this is a story of love and redemption that will leave you breathless from the unpredictable and mind-blowing ending.