Drink, Slay, Love (Paperback)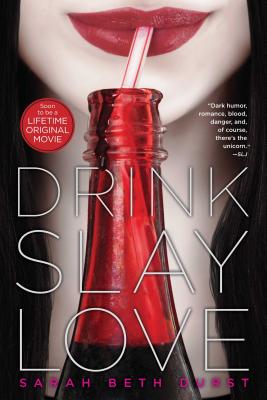 Description
---
Vampire romance takes a snarky turn in this humorous novel, coming soon to TV screens as a Lifetime Original Movie!

Pearl is a sixteen-year-old vampire…fond of blood, allergic to sunlight, and mostly evil…until the night a sparkly unicorn stabs her through the heart with his horn. Oops.
Her family thinks she was attacked by a vampire hunter (because, obviously, unicorns don't exist), and they're shocked she survived. They're even more shocked when Pearl discovers she can now withstand the sun. But they quickly find a way to make use of her new talent. The Vampire King of New England has chosen Pearl's family to host his feast. If Pearl enrolls in high school, she can make lots of human friends and lure them to the King's feast—as the entrées.
The only problem? Pearl's starting to feel the twinges of a conscience. How can she serve up her new friends—especially the cute guy who makes her fangs ache—to be slaughtered? Then again, she's definitely dead if she lets down her family. What's a sunlight-loving vamp to do?
About the Author
---
Sarah Beth Durst is the author of young adult novels Conjured, Vessel, Drink Slay Love, Enchanted Ivy, and Ice, as well as middle grade novels Into the Wild and Out of the Wild. She has been a finalist for SFWA's Andre Norton Award three times, for Vessel, Ice, and Into the Wild. Sarah lives in Stony Brook, New York, with her husband and children. The Lost, The Missing, and The Found are Sarah's first novels for adults.

Visit her at sarahbethdurst.com.
Praise For…
---
"Combining a sense of humor with dark appeal of supernatural romance, this book is funny, scary and thought provoking all at once."


— Kirkus Reviews

"A fresh, modern, and humorous twist on the vampire novel. . . . Lively characters and a sweet romance are icing on the cake."
— Publishers Weekly

"Refreshing . . . . The story transitions easily between the vampire and human world, creating characters, settings, and situations that are quite believable and often funny while still maintaining a respectable level of darkness."
— SLJ

"This book will likely appeal to young horror fans who enjoy a snarkier, smarter, distinctly less sparkly brand of vampires."
— VOYA

"Pearl is, if not exactly likable, refreshingly self-aware and possessed of a sort of mad charm, and readers both vamp-crazy and not will enjoy her dry, unapologetic take on the genre that is at once pointed send-up and twisted celebration."
— BCCB

"Fierce, smart, and sarcastic, Pearl is a lively antihero who is forced to choose sides in the ultimate showdown, revealing her true loyalties. A sweet yet unusual romance completes the book's appeal."
— The Horn Book