Inexcusable (Paperback)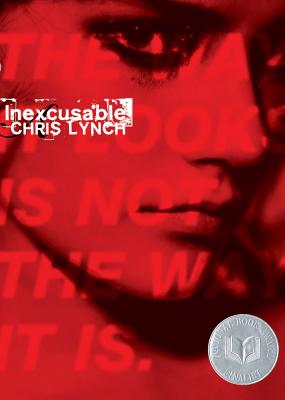 Description
---
"The world needs this story. And you will want to read it. Trust me." —Laurie Halse Anderson on this taut, thought-provoking novel that deals with rape from the accused's point of view, repackaged as part of the distinguished Atheneum Collection.

Keir is a good guy. He is a senior in high school, well liked, and respected by his friends and family. So how could he be a rapist? Yet that is what Gigi, the love of his life, says he is. Keir doesn't understand. He loves Gigi. He would never do anything to hurt her. But apparently, he has. Alternating between the present day and flashbacks, Keir recounts the events that led up to his night with Gigi…and discovers something inexcusable.

Brilliantly crafted and much acclaimed, this is a riveting tale of truth, lies, and responsibility—a tale every teenager should read.
About the Author
---
Chris Lynch is the Printz Honor Award–winning author of several highly acclaimed young adult novels, including Printz Honor Book Freewill, Iceman, Gypsy Davy, and Shadow Boxer—all ALA Best Books for Young Adults—as well as Killing Time in Crystal City, Little Blue Lies, Pieces, Kill Switch, Angry Young Man, and Inexcusable, which was a National Book Award finalist and the recipient of six starred reviews. He holds an MA from the writing program at Emerson College. He teaches in the Creative Writing MFA program at Lesley University. He lives in Boston and in Scotland.
Praise For…
---
"This raw and powerful book will hammer its way into your heart and haunt you. The world needs this story. And you want to read it -- trust me."
— Laurie Halse Anderson, Printz Honor-Winning Author of Speak

"Chris Lynch is the best pure YA writer we have -- he has the guts, he has the chops, and like his readers, he'll take a close look at anything. Inexcusable is irresistible, in its limning of the spaces between brutality and grace, between the soul and the law. Start at page one -- you'll never stop."
— Bruce Brooks, Newbery Honor-Winning Author of The Moves Make the Man

"Inexcusable is a not-to-be-missed chapter in the anthropology of ritual male dating behavior. From the first phrase to the last phrase, Chris Lynch creates a character with such flawless self-deception that the reader mistakes being seduced with being stalked. In the end you become the books trophy, and you'll find your head mounted on the cover."
— Jack Gantos, Printz Honor-Winning Author of Hole In My Life

*"A finely crafted and thought-provoking page-turner"

*"Expertly drawn...A nuanced, wholly believable character that will leave many readers shaking with recognition...Unforgettable."

*"Lynch hits a home run with this provocative, important read."

"An interesting companion piece to Laurie Halse Anderson's Speak."

*"With his portrait of Keir, Lynch makes it nearly impossible for readers to see the world in black-and-white terms. This book is guaranteed to prompt heated discussions."

*"Lynch's masterful exploration of the difference between perception and reality is fascinating. Teens will reread this short but complex story debating the issues of violence and responsibility."