Sunday You Learn How to Box (Paperback)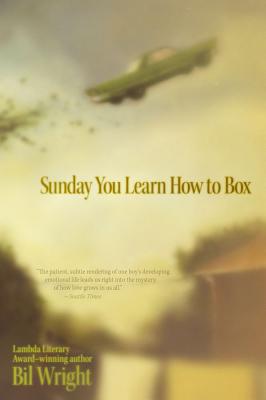 Description
---
Strength and resilience fuel an urban teen's fight for survival in this acclaimed novel from Bil Wright that "delivers a knock-out punch" (Venus Magazine).

Fourteen-year-old Louis Bowman lives in a boxing ring—a housing project circa 1968—and is fighting "just to get to the end of the round." Sharing the ring is his mother, Jeanette Stamps, a ferociously stubborn woman battling for her own dreams to be realized; his stepfather, Ben Stamps, the would-be savior, who becomes the sparring partner to them both; and the enigmatic Ray Anthony Robinson, the neighborhood "hoodlum" in purple polyester pants, who sets young Louis's heart spinning with the first stirrings of sexual longing.

Bil Wright deftly evokes an unrelenting world with quirky humor and a clear-eyed perspective in this "deeply felt coming-of-age novel" that "reads like the best of memoirs" (School Library Journal).
About the Author
---
Bil Wright is an award-winning novelist and playwright. His novels include Putting Makeup on the Fat Boy (Lambda Literary Award and American Library Association Stonewall Book Award), the highly acclaimed When the Black Girl Sings (Junior Library Guild selection), and the critically acclaimed Sunday You Learn How to Box. His plays include Bloodsummer Rituals, based on the life of poet Audre Lorde (Jerome Fellowship), and Leave Me a Message (San Diego Human Rights Festival premiere). He is the Librettist for This One Girl's Story (GLAAD nominee) and the winner of a LAMI (La Mama Playwriting Award). An associate professor of English at CUNY, Bil Wright lives in New York City. Visit him at BilWright.com.
Praise For…
---
"Heartbreaking and heartwarming. I was touched in so many ways by this absolutely dazzling and elegant debut. You won't be able to put it down. "
— E. Lynn Harris The New York Times bestselling author of Abide with Me

"The patient, subtle rendering of one boy's developing emotional life leads us right into the mystery of how love grows in us all."
— Judy Lightfoot, Seattle Times

"With striking immediacy, keen insight, and grace of language, Wright captures the anguish of adolescence and the complex bond between mothers and sons...riveting."
— New York World

"Understated humor marks Bil Wright's first novel, Sunday You Learn How to Box... the absence of sentimentality is refreshing."
— The New York Times

"A realistic, poignant story. It grabs you from the beginning, digs at your heartstrings, and doesn't let go."
— The Philadelphia Tribune

"Sunday You Learn How to Box has all the rhythm, drama, and dance of a good fight but in this case the battle matters more because the soul of a boy is at stake. In elegant and agile prose, Wright matches brutality with passion and heartbreak with hope. And a man in purple polyester pants walks off with the prize. This book is a knockout."
— Karin Cook, author of What Girls Learn

"A mother's uphill battle to forge a better life for her family, her young son's struggle to survive in a world where the lines of "manhood" and "masculinity" are harshly drawn -- Bil Wright's wrenching novel about growing up gay is sometimes crushing, sometimes exhilarating, but always full of grace. In this elegant and honest book, Wright engages difficult themes of love exhausted and renewed, dreams derailed and put back on track again, and the stubborn will to create one's destiny instead of falling prey to it. I was powerfully moved by Sunday You Learn How to Box. Its images singe. Its characters gleam."
— Gerry Gomez Pearlberg, author of Marianne Fauthfull's Cigarette and editor of Queer Dog: Homo/Pub/Poetry

"Sunday You Learn How to Box is smart and sexy. Bil Wright's gorgeous first novel overflows with wit and lyricism, the wonders of desire, and the brutality of racism. Louis shows us the power of salvation when the savior and saved are one -- I couldn't put it down!"
— Stephanie Grant, author of The Passion of Alice

"Louis is a winning character, an adolescent coping gracefully with his bitter lot, whose emotional strength and resilience ensure his survival into adulthood."
— Publishers Weekly

"A poignant coming-of-age story. Wright has written an unsentimental portrait of a vulnerable young black man."
— Booklist

"This deeply felt coming-of-age novel reads like the best of memoirs. …. Wright has a pitch-perfect ear for dialogue and a genuine gift for capturing the intricacies and indeterminacies of family and community life. Both ensure that Louis Bowman will live with teen readers long after they close the book."
— School Library Journal