Leviathan (Boxed Set): Leviathan; Behemoth; Goliath (The Leviathan Trilogy) (Paperback)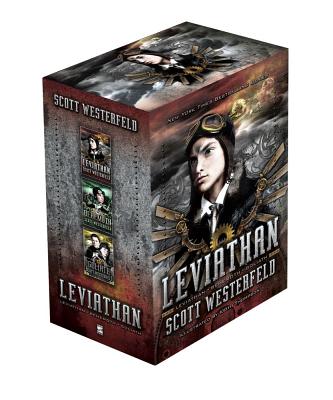 Winter 2009 Kids' List
---
"Leviathan is a fantastic and beautifully illustrated steampunk version of The Great War. In this alternate universe, the Clankers put their faith in elaborate steam-powered machines and the Darwinists manage huge living airships that are whole ecosystems. But this is mostly the story of two 15-year-olds who are both hiding secrets. Prepare yourself for an adventurous ride."
— Joanne R. Fritz, Chester County Book & Music Company, West Chester, PA
Description
---
Destiny meets history in the complete boxed set of the riveting, New York Times bestselling Leviathan trilogy.

It is the cusp of World War I. The Austro-Hungarians and Germans have their Clankers, steam-driven iron machines loaded with guns and ammunition. The British Darwinists employ genetically fabricated animals as their weaponry. Their Leviathan is a whale airship, and the most masterful beast in the British fleet.

In this striking futuristic rendition of an alternate past where machines are pitted against genetically modified beasts, Aleksandar Ferdinand, a Clanker, and Deryn Sharp, a Darwinist, are on opposite sides in the First World War. But their paths cross in the most unexpected way, and together they embark on an around-the-world adventure….One that will change both their lives forever.

This collectible boxed set contains the complete Leviathan trilogy: Leviathan, Behemoth, and Goliath.
About the Author
---
Scott Westerfeld is the author of the Leviathan series, the first book of which was the winner of the 2010 Locus Award for Best Young Adult Fiction. His other novels include the New York Times bestseller Afterworlds, the worldwide bestselling Uglies series, The Last Days, Peeps, So Yesterday, and the Midnighters trilogy. Visit him at ScottWesterfeld.com or follow him on Twitter at @ScottWesterfeld.

Keith Thompson's work has appeared in books, magazines, TV, video games, and films. See his work at KeithThompsonArt.com.