Destino: Láncese hacia su propósito (Paperback)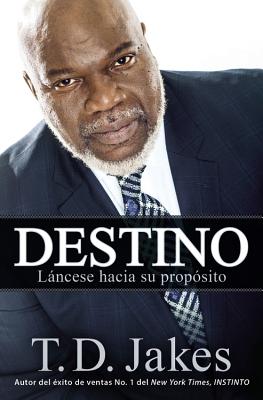 Description
---
¿Recuerda sentir un tirón, o como si algo lo halara y llevara magnéticamente al lugar o a la persona correcta?

El DESTINO es esa brújula interna que le dirige al cumplimiento de su propósito principal. Al reflexionar sobre su vida, puede que le sorprenda que sus mejores momentos resultaron de circunstancias que usted no controló ni inició. ¡Estaba destinado!

Lanzarse hacia su destino significa cumplir el papel para el cual fue creado para interpretar en la vida. Usted prospera y encuentra gran satisfacción cuando tiene el coraje de alcanzar su verdadero propósito.

¡La vida ofrece más cuando el destino es nuestro enfoque! Nuestro propósito divino nos guía a través de los retos del pasado, dolores, e incluso lo que superficialmente podría parecer ser un fracaso. Sin embargo, al reflexionar más profundamente, son como los catalizadores que nos mueven hacia la autoidentidad auténtica y las aventuras audaces de la vida.

Ya sea que esté comenzando o preguntándose si existe un éxito mayor del que ya ha logrado, es el momento de volver a configurar su brújula interna. Con esta guía reveladora de T.D. Jakes, atrévase a perseguir el orden invisible en las circunstancias de su vida el cual es su DESTINO.

Discover the divine purpose of your dreams with this insightful guide from Bishop T. D. Jakes -- and learn how Biblical principles will propel your life to the next level.   Have you ever sensed the pull of a divine guide that was leading you to the right place or person? Destiny, that inner compass, directs you to fulfillment of your highest purpose. When you reflect on your life, you may be amazed that you didn't control or initiate your greatest moments -- you were destined!   Stepping into your destiny means fulfilling the role you were created to play in life. You will thrive and find contentment when you have the courage to pursue your true purpose.   Life offers more when destiny is our focus! Our divine purpose maneuvers us past challenges, pains, and shortcuts. On deeper reflection, we understand our trials and failures as valuable lessons, the catalysts that shift us toward authentic self-identity, greater exposure, and bold life adventures.   Whether you are starting out, starting over, or dreaming of greater success, now is the time to reset your inner compass, clear your path of distractions and disruptions, and correct places where you have veered off course. Get unstuck. Embrace your God-given purpose and, with this revelatory guide from T.D. Jakes, dare to pursue the unseen order in your life circumstances and fulfill your Destiny.
About the Author
---
T.D. JAKES es un autor No. 1 del New York Times con más de 25 libros. Su programa de televisión The Potter's Touch es visto por 3.3 millones de personas cada semana. Ha producido música galardonada con el Grammy Award y películas como El cielo es real, Sparkle y Jumping the Broom. Además, es un talentoso comunicador y anfitrión de Megafest, Woman Thou Art Loosed, y otras conferencias a las que asisten miles de personas.