The Panjshir Valley 1980–86: The Lion Tames the Bear in Afghanistan (Campaign) (Paperback)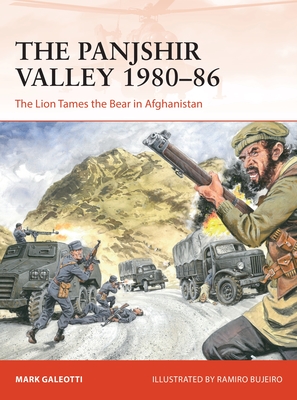 Description
---
An in-depth look at the struggle between the charismatic rebel commander Ahmad Shah Massoud, "The Lion of Panjshir," and the Soviet forces who fought to control the Panjshir Valley in Afghanistan.

When the Soviets rolled into Afghanistan in 1979, they believed if they took the cities, the country would follow. They were wrong. The Red Army found itself in a bloody stalemate in the Afghan mountains, in the strategically vital Panjshir Valley, where they faced the most able and charismatic of the rebel commanders: Ahmad Shah Massoud, the "Lion of Panjshir."

Time and again the Soviets and their Afghan counterparts sought to take control of the Panjshir, and time and again the rebels either rebuffed their clumsy attempts or ambushed and evaded them, only to retake the valley as soon as Moscow's attention was elsewhere. Over time, the rebels acquired new weapons and developed their own tactics – as did the Soviets. The Panjshir was not just a pivotal battlefield, it also shaped subsequent Afghan civil wars that followed the Soviet withdrawal, and the military thinking that is still informing the new Russian military. Featuring bold color artwork battlescenes and detailed maps of the fighting, this is a compelling study of one of the hardest-fought struggles of the Soviet War in Afghanistan.
About the Author
---
Mark Galeotti is a scholar of Russian security affairs with a career spanning academia, government service and business, a prolific author and frequent media commentator. He heads the Mayak Intelligence consultancy and is an Honorary Professor at University College London's School of Slavonic and East European Studies as well as holding fellowships with RUSI, the Council on Geostrategy and the Institute of International Relations Prague. He has been Head of History at Keele University, Professor of Global Affairs at New York University, a Senior Research Fellow at the Foreign and Commonwealth Office and a Visiting Professor at Rutgers-Newark, Charles University (Prague) and the Moscow State Institute of International Relations. He is the author of over 25 books including A Short History of Russia (Penguin, 2021) and The Weaponisation of Everything: A Field Guide to the New Way of War (Yale University Press, 2022).
Ramiro Bujeiro has become a frequent and popular contributor to Osprey since illustrating Warrior 23:US Marine in Vietnam 1965–73
(1998). He is an experienced commercial artist who lives and works in his native city of Buenos Aires, Argentina. His professional background includes commissions as a figure illustrator and strip cartoonist for clients all over Europe, the Americas and in Great Britain. His main interests are the political and military history of Europe in the first half of the 20th century.