Run Your Best Marathon: Your trusted guide to training and racing better (Paperback)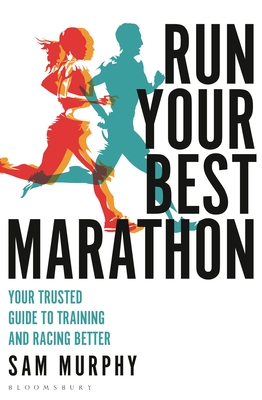 $24.00

On Our Shelves Now - May Be on Hold for Another Customer
Description
---
'Quite simply, it contains the tools to make you a better runner. Make space on your bookshelf for this timeless, classic marathon manual.' -Paul Tonkinson

'Drawing on decades of running and coaching experience, Murphy provides a current resource that long-distance runners are sure to return to time and again' -Booklist

Learn how to run your best marathon and get the most out of your training.

There's no shortage of advice out there on how to train for a marathon and yet it can be hard to know what will work best for you.

Run Your Best Marathon is here to change all that with the expertise of running coach Sam Murphy. Whether you're looking to step up to the marathon for the first time or to better previous performances over the distance, Sam's runner-centred approach will help you prepare for and race your chosen marathon to the best of your ability.

Choose from six training plans, each pitched at a different level of mileage, intensity and experience. The plans are backed up by a wealth of essential information and advice on how to train, race, eat and recover. Learn how to:
– assess yourself and set a realistic goal
– adjust your diet to optimise training and recovery
– get your brain onside to resist fatigue and overcome discomfort
– stay healthy during training and respond to injuries
– master the skill of racing.
About the Author
---
Sam Murphy is a journalist, author and coach. She pens the longstanding Murphy's Lore column in Runner's World magazine and has written for numerous national newspapers and magazines. Sam has raced from 5km to ultra-distance. She holds a sports and exercise science degree and is an England Athletics qualified endurance coach. @sammurphyruns
Praise For…
---
"Murphy knows her marathon. This book is a feast: cutting-edge training techniques, programmes for every level of athlete – quite simply, it contains the tools to make you a better runner. Make space on your bookshelf for this timeless, classic marathon manual." —Paul Tonkinson

"An absolutely brilliant guide that covers every aspect of race preparation – a must for anyone training for a marathon." —Anita Bean, author of The Vegan Athlete's Cookbook

"From cutting through all the running jargon to planning a schedule which will fit perfectly with your goals, this book is an ideal way to expand your knowledge as well as improving your performance." —Athletics Weekly

"Whether you're planning your first or 50th marathon, you're bound to discover some valuable training insights!" —Strength Running Podcast