Beginning C++20: From Novice to Professional (Paperback)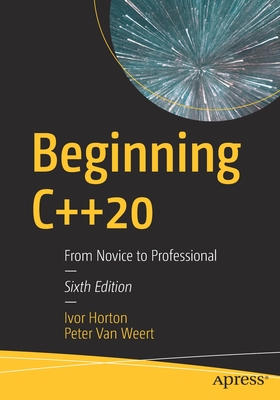 $59.99

Usually Arrives in 3-5 Days
Description
---
Revises Ivor Horton's C++ tutorial for the new C++ 17 release
Ivor Horton is industry and academic recognized expert and author on the subject of C/C++
C++ remains one of the leading programming languages that drives many applications today.
About the Author
---
Ivor Horton is self-employed in consultancy and writes programming tutorials. He is the author of many programming books. Ivor worked for IBM for many years and holds a bachelor's degree, with honors, in mathematics. Horton's experience at IBM includes programming in most languages (including assembler and high-level languages on a variety of machines), real-time programming, and designing and implementing real-time closed loop industrial control systems. He has extensive experience teaching programming to engineers and scientists (Fortran, PL/1, APL, etc.). Horton is an expert in mechanical, process, and electronic CAD systems; mechanical CAM systems; and DNC/CNC systems.Peter Van Weert works for Danaher in its R&D unit for digital dentistry software, developing software for the dental practice of tomorrow. In his spare time, he has co-authored two books on C++ and two award-winning Windows 8 apps and is a regular expert speaker at, and board member of, the Belgian C++ Users Group. He is a software engineer whose main interests and expertise are application software development, programming languages, algorithms, and data structures.He received his master of science degree in computer science summa cum laude with congratulations of the Board of Examiners from the University of Leuven. In 2010, he completed his PhD thesis there on the design and efficient compilation of rule-based programming languages at the research group for declarative programming languages and artificial intelligence. During his doctoral studies, he was a teaching assistant for object-oriented programming (Java), software analysis and design, and declarative programming. After graduating, Peter worked at Nikon Metrology for more than six years on large-scale, industrial application software in the area of 3D laser scanning and point cloud inspection. He learned to master C++ and refactoring and debugging of very large code bases, and he gained further proficiency in all aspects of the software development process, including the analysis of functional and technical requirements, and agile and scrum-based project and team management.