Big Breaches: Cybersecurity Lessons for Everyone (Paperback)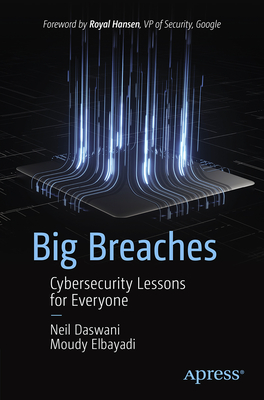 $27.99

Usually Arrives in 3-5 Days
Description
---
The cybersecurity industry has seen an investment of over $45 billion in the past 15 years. Hundreds of thousands of jobs in the field remain unfilled amid breach after breach, and the problem has come to a head. It is time for everyone--not just techies--to become informed and empowered on the subject of cybersecurity.
In engaging and exciting fashion, Big Breaches covers some of the largest security breaches and the technical topics behind them such as phishing, malware, third-party compromise, software vulnerabilities, unencrypted data, and more. Cybersecurity affects daily life for all of us, and the area has never been more accessible than with this book.
You will obtain a confident grasp on industry insider knowledge such as effective prevention and detection countermeasures, the meta-level causes of breaches, the seven crucial habits for optimal security in your organization, and much more. These valuable lessons are applied to real-world cases, helping you deduce just how high-profile mega-breaches at Target, JPMorgan Chase, Equifax, Marriott, and more were able to occur.
Whether you are seeking to implement a stronger foundation of cybersecurity within your organization or you are an individual who wants to learn the basics, Big Breaches ensures that everybody comes away with essential knowledge to move forward successfully. Arm yourself with this book's expert insights and be prepared for the future of cybersecurity.
Who This Book Is For
Those interested in understanding what cybersecurity is all about, the failures have taken place in the field to date, and how they could have been avoided. For existing leadership and management in enterprises and government organizations, existing professionals in the field, and for those who are considering entering the field, this book covers everything from how to create a culture of security to the technologies and processes you can employ to achieve security based on lessons that can be learned from past breaches.
About the Author
---
​Dr. Neil Daswani is Co-Director of the Stanford Advanced Security Certification program, and is President of Daswani Enterprises, his security consulting and training firm. He has served in a variety of research, development, teaching, and executive management roles at Symantec, LifeLock, Twitter, Dasient, Google, Stanford University, NTT DoCoMo USA Labs, Yodlee, and Telcordia Technologies (formerly Bellcore). At Symantec, he was Chief Information Security Officer (CISO) for the Consumer Business Unit, and at LifeLock he was the company-wide CISO. Neil has served as Executive-in-Residence at Trinity Ventures (funders of Auth0, New Relic, Aruba, Starbucks, and Bulletproof). He is an investor in and advisor to several cybersecurity startup companies and venture capital funds, including Benhamou Global Ventures, Firebolt, Gravity Ranch Ventures, Security Leadership Capital, and Swift VC. Neil is also co-author of Foundations of Security: What Every Programmer Needs to Know (Apress).Neil's DNA is deeply rooted in security research and development. He has dozens of technical articles published in top academic and industry conferences (ACM, IEEE, USENIX, RSA, BlackHat, and OWASP), and he has been granted over a dozen US patents. He frequently gives talks at industry and academic conferences, and has been quoted by publications such as The New York Times, USA Today, and CSO Magazine. He earned PhD and MS degrees in computer science at Stanford University, and he holds a BS in computer science with honors with distinction from Columbia University.Dr. Moudy Elbayadi has more than 20 years of experience and has worked with a number of high-growth companies and across a variety of industries, including mobile and SaaS consumer services, and security and financial services. Having held C-level positions for leading solution providers, Dr. Elbayadi has a unique 360-degree view of consumer and enterprise SaaS businesses. He has a consistent track record of defining technology and product strategies that accelerate growth.As CTO of Shutterfly, Dr. Elbayadi oversees all technology functions including product development, cybersecurity, DevOps, and machine learning/AI R&D functions. In this capacity he is leading the technology platform transformation. Prior to Shutterfly, Dr. Elbayadi held the position of SVP, Product & Technology for Brain Corp, a San Diego-based AI company creating transformative core technology for the robotics industry.As advisor, Dr. Elbayadi has been engaged by CEOs and senior executives of companies ranging from $10M to $2B in revenues. Representative engagements include public cloud strategy, platform integration and M&A strategy. He has advised numerous VC firms on technology and prospective investments. Dr. Elbayadi earned a doctorate in leadership and change from Antioch University, a master's degree in organizational leadership from Chapman University, and a master's degree in business administration from the University of Redlands.