Justice in Lyon: Klaus Barbie and France's First Trial for Crimes against Humanity (Paperback)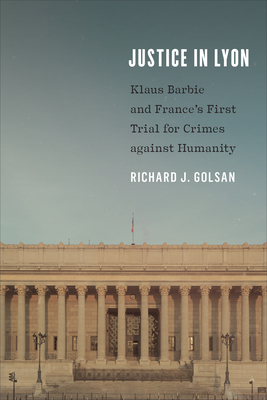 $43.95

Usually Arrives in 3-5 Days
Description
---
The trial of former SS lieutenant and Gestapo chief Klaus Barbie was France's first trial for crimes against humanity. Known as the Butcher of Lyon during the Nazi occupation of that city from 1942 to 1944, Barbie tortured, deported, and murdered thousands of Jews and Resistance fighters. Following a lengthy investigation and the overcoming of numerous legal and other obstacles, the trial began in 1987 and attracted global attention.
Justice in Lyon is the first comprehensive history of the Barbie trial, including the investigation leading up to it, the legal background to the case, and the hurdles the prosecution had to clear in order to bring Barbie to justice. Richard J. Golsan examines the strategies used by the defence, the prosecution, and the lawyers who represented Barbie's many victims at the trial. The book draws from press coverage, articles, and books about Barbie and the trial published at the time, as well as recently released archival sources and the personal archives of lawyers at the trial.
Making the case that, despite the views of its many critics, the Barbie trial was a success in legal, historical, and pedagogical terms, Justice in Lyon details how the trial has had a positive impact on French and international law governing crimes against humanity.