Steeped in Malice (Tea by the Sea Mysteries #4) (Hardcover)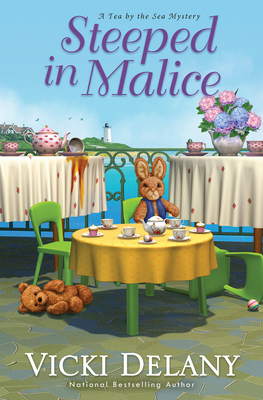 $27.00

On Our Shelves Now - May Be on Hold for Another Customer
Description
---
Thanks to the Great Teacup Shortage, Cape Cod tearoom proprietress Lily Roberts is already feeling the strain. But when a family fracas turns deadly over an antique tea set, she'll really have to pour through the clues before another crime is brewed up.

With a "beautifully described setting and a cast of charming, small-town characters" (Booklist), this new installment in
award-winning crime writer Vicki Delany's Tea by the Sea Mystery series is a delightful treat for fans of Laura Childs' Tea Shop Mysteries!

Afternoon tea isn't just about flavorful brews and delicious treats. It's also about presentation—fine china teacups (never mugs!), with carefully coordinated saucers and plates. With her fragile stock running low, Lily has an excuse to indulge in one of her favorite hobbies: visiting an antiques fair for replacements.

Among other finds, Lily snaps up a charming Peter Rabbit-themed tea set in a wicker basket, perfect for children's events. But a few days later, a woman named Kimberly marches into the tearoom, rudely demanding to buy it back—then later returns and removes an envelope hidden in the basket's lining.

An acquaintance of Lily's named Rachel is on the trail of the tea set too. Apparently, she and Kimberly are half-sisters, searching for their mother's final will. To her annoyance, Lily is dunked into the middle of this mess—especially when her ex-boyfriend turns out to be involved. But it's more than a storm in a teacup when one of the sisters is found dead on the grounds of the B&B owned by Lily's grandmother, Rose.

Is this a simple case of greed boiling over, or are there other suspects in the blend? It'll take some savvy sleuthing from Lily, Rose, and their allies to find the answers before a killer shatters more lives . . .
About the Author
---
Vicki Delany is one of Canada's most prolific and varied crime writers and a national bestseller in the US. She is currently writing four cozy mystery series: The Tea by the Sea mysteries, the Sherlock Holmes Bookshop series, the Year Round Christmas mysteries, and as Eva Gates, the Lighthouse Library series. A past president of the Crime Writers of Canada and a co-organizer of Women Killing it, a crime writing festival, her work has been nominated for the Derringer, the Bony Blithe, the Ontario Library Association Golden Oak, and the Arthur Ellis Awards. She is the recipient of the 2019 Derrick Murdoch Award for contributions to Canadian crime writing. Vicki lives and writes in bucolic Prince Edward County, Ontario and can be found online at VickiDelany.com.
Praise For…
---
Praise for the Tea by the Sea Mysteries by Vicki Delany
 
"Find a comfy chair, raise a cup of fragrant, freshly brewed tea to your lips, and settle down for murder and mayhem in a mystery novel set in a tearoom for a delightful form of armchair travel." —TeaTime Magazine on The Tea by the Sea Mysteries
 
"Details about tea, baking, and running a tea shop and bed-and-breakfast are woven throughout a satisfying cozy with a beautifully described setting and a cast of charming, small-town characters. Share this new series with fans of Laura Childs' Tea Shop mysteries." —Booklist on Tea & Treachery
 
"Fans of culinary cozies will be sure to come back for more." —Publishers Weekly on Tea & Treachery
"Bestselling crime writer Vicki Delany has penned more than 40 hair-raising whodunits--and her latest tale follows suit!" —Woman's World (Book Club Selection) for Tea & Treachery
 
"Adds a sweet edge to the cozy genre...With a pot of Earl Grey and a shortbread made from the included recipes at their sides, readers will feel like this takes them on a mini-trip to the seashore." —Booklist on Murder in a Teacup
 
"Delany expertly blends a cunning mystery plot with diverting characters and sparkling dialogue. Laura Childs fans will have fun." —Publishers Weekly on Murder in a Teacup
 
"Quirky characters, a lovely setting, and a surprising denouement make this second installment a charmer." —Kirkus on Murder in a Teacup

"Sympathetic characters, a charming setting, the baking frame, and appended recipes distinguish this cozy, which will appeal to fans of Laura Childs' Theodosia Browning tea-shop mysteries and Cleo Coyle's coffeehouse-set series." —Booklist on Murder Spills the Tea
 
"Cape Cod provides an appealing backdrop for a food-centric cozy replete with red herrings and likable sleuths." —Kirkus on Murder Spills the Tea
 
"Kudos to Vicki Delaney for this terrific whodunnit." —Criminal Element on Murder in a Teacup
 
"It's a crime not to read Delany." —London Free Press