The Last Equation of Isaac Severy: A Novel in Clues (Hardcover)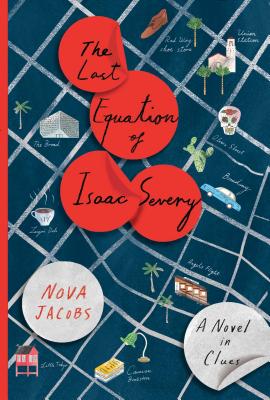 March 2018 Indie Next List
---
"Isaac Severy has died and taken the secret of his last mathematical equation with him. Except that he has also hidden clues to a hiding place for this final work and shares these clues with his adopted granddaughter, Hazel, who he has charged with finding his hidden treasure and getting it into the hands of a trusted colleague. But she's not the only one looking for his equation, and some of the other searchers are dangerous indeed. This inviting mystery allows us to follow along as Hazel makes her way toward the answer, so be prepared to put on your thinking cap and get out your best clue-solving approach - you'll need all the help you can get. I absolutely loved this debut!"
— Linda Bond, Auntie's Bookstore, Spokane, WA
Winter 2018 Reading Group Indie Next List
---
"What an odd book, peopled with mathematicians and physicists and ordinary folks, most of whom I didn't especially like; filled with the intrigue of a predictive formula that governments covet but that seems to have gone missing; and all centered on a multi-generational family that has its own share of complex issues. I found myself reading Jacobs' debut novel almost compulsively, and I can't wait to see what she publishes next. No prior understanding of proofs or string theory required!"
— Susan Posch, The Book Shoppe (IA), Boone, IA
Description
---
*Wall Street Journal's "Mysteries: Best of 2018"
*Book of the Month Club Selection

"Hugely entertaining…The Last Equation of Isaac Severy is full of delight. Though Ms. Jacobs's writing has echoes of Thomas Pynchon, Nathanael West and J.D. Salinger, her terrific book displays in abundance a magic all its own." —The Wall Street Journal

The Family Fang meets The Storied Life of A.J. Fikry in this literary mystery about a struggling bookseller whose recently deceased grandfather, a famed mathematician, left behind a dangerous equation for her to track down—and protect—before others can get their hands on it.

Just days after mathematician and family patriarch Isaac Severy dies of an apparent suicide, his adopted granddaughter Hazel, owner of a struggling Seattle bookstore, receives a letter from him by mail. In it, Isaac alludes to a secretive organization that is after his final bombshell equation, and he charges Hazel with safely delivering it to a trusted colleague. But first, she must find where the equation is hidden.

While in Los Angeles for Isaac's funeral, Hazel realizes she's not the only one searching for his life's work, and that the equation's implications have potentially disastrous consequences for the extended Severy family, a group of dysfunctional geniuses unmoored by the sudden death of their patriarch.

As agents of an enigmatic company shadow Isaac's favorite son—a theoretical physicist—and a long-lost cousin mysteriously reappears in Los Angeles, the equation slips further from Hazel's grasp. She must unravel a series of maddening clues hidden by Isaac inside one of her favorite novels, drawing her ever closer to his mathematical treasure. But when her efforts fall short, she is forced to enlist the help of those with questionable motives.
About the Author
---
Nova Jacobs holds an MFA from the University of Southern California School of Cinematic Arts and is a recipient of the Nicholl Fellowship from the Academy of Motion Picture Arts and Sciences. She lives in Los Angeles with her husband, Jeremy. The Last Equation of Isaac Severy is her first novel.
Praise For…
---
"Hugely entertaining… "The Last Equation of Isaac Severy" is full of delight. Though Ms. Jacobs's writing has echoes of Thomas Pynchon, Nathanael West and J.D. Salinger, her terrific book displays in abundance a magic all its own."
—Wall Street Journal

"Engaging, clever . . . .a sharp puzzle mystery, full of stimulating questions that make it impossible to stop turning the pages. . . . Isaac Severy left me with the lasting realization that mathematics is a love language. Well done, professor."
—Sophia Bush

"Clever . . . . Nova Jacobs has penned a novel that is anything but clueless, filled with consideration and compassion."
—Washington Post

"In The Last Equation of Isaac Severy, Nova Jacobs sends an endearing bookstore owner on a quest for an elusive mathematical formula--but that is only the beginning of her journey. Jacobs weaves a charming, mysterious tale about family bonds, personal ghosts, and the wondrous intersection of mathematics and art. A fun, compelling read."
—Matthew Sullivan, author of Midnight at the Bright Ideas Bookstore

"Surely this is among the most dazzling debuts of the year—and one of the most original and enjoyable, too: a quest story, a novel of manners, a tragicomedy, a more-or-less romance and a scientific speculation on the intersection of fate and chance, all unspooling across Los Angeles and its sunny suburbs."
—Tom Nolan, Wall Street Journal

"This book is certainly a treat."
—Bustle.com

"The lone literary soul in a Royal Tenenbaums-esque clan of geniuses scours L.A. for clues to an urgent problem her grandfather left behind . . . [an] unformulaic romp of a mystery."
—Martha Stewart Living

"A riveting narrative that . . . delivers all the page-turning suspense of a mystery novel laced with insights into modern mathematics and quantum physics, and into the dynamics of family relationships. A brilliant first novel radiant with promise of even better to come."
—Booklist, starred review

"The Severy family would fit right into one of Wes Anderson's eccentric comedies... Nova Jacobs gives us a portrait of family function and dysfunction that will be familiar even to those of us without fatal genius in our genes."
—Raleigh News & Observer

"Jacobs never loses traction — or the fun — of her elaborate storyline . . . . Her complex and carbonated plot is satisfying and refreshing — a debut not to be missed."
—St. Louis Post-Dispatch

"Intricate and moving . . . Plausible depictions of psychologically wounded characters enhance the surprising plot twists."
—Publishers Weekly, starred review

"I so hated saying goodbye to the brainy eccentrics in the Severy clan that I started this book all over again as soon as I finished it. Can't wait to see the fresh surprises I'll find now that I'm in on a few of their secrets."
—Julia Claiborne Johnson, author of Be Frank with Me

"Jacobs's debut novel cleverly mixes people, plots, and puzzle with humor and heart. This brainy thriller will appeal to readers who enjoyed Marisha Pessl's Special Topics in Calamity Physics, Jonathan Safran Foer's Extremely Loud and Incredibly Close, and Robin Sloan's Mr. Penumbra's 24-Hour Bookstore."
—Library Journal, starred review

"In lovely, inventive prose, Jacobs re-engineers the tropes of family drama to explore age-old conundrums of destiny versus self-determination… [A] remarkable debut."
—Kirkus Reviews

"This captivating story about a struggling bookseller whose recently deceased grandfather, a famed mathematician, sends her on a quest for an elusive and a potentially dangerous mathematical formula is cerebral, eccentric and endearing."
—Chicago Review of Books

"Debut novelist Nova Jacobs has plotted an elaborate riddle within a multifaceted exploration of family and identity. This genre-bending story will appeal to lovers of family dramas such as Celeste Ng's Everything I Never Told You, as well as readers who prefer their stories full of intellectual suspense."
—BookPage

"A page-turner that will leave you hunting for the clues alongside the main characters."
—The Daily Beast

"If you love a good scavenger hunt, this is the pick for you. It has everything you'll need: a dead mathematician, a mystery to solve before an equation gets into the wrong hands, and a questionable ally."
—Women.com