The Red Ripper: Inside the Mind of Russia's Most Brutal Serial Killer (Paperback)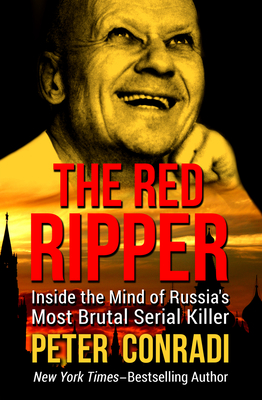 $19.99

Usually Arrives in 3-5 Days
Description
---
The shocking true story of the Russian serial killer who brutally murdered more than fifty victims—and evaded capture for over a decade.

By the time he was brought to trial in 1992, Soviet serial killer Andrei Chikatilo had killed more than fifty women and children, often sexually abusing them and leaving their bodies mutilated beyond recognition. Although he was initially arrested in 1984, the police lacked enough evidence to pin the unsolved murders on him and he was able to torture and kill dozens more before his eventual conviction. Compiling exclusive interviews and trial transcripts, journalist and editor at London's Sunday Times Peter Conradi reveals how the grandfather and former teacher carried out a horrific twelve-year killing spree right under the nose of authority.
 
Based on extensive research into Chikatilo's past and the elements of Soviet society that allowed his crimes to go unsolved for so long, Conradi delves into the life of one of history's most prolific and disturbing serial killers. Interviews with Moscow police detectives detail the fervent hunt for the man who preyed on young children, prostitutes, and runaways—a search that turned up many dead ends and false convictions before a massive undercover surveillance effort ultimately nabbed Chikatilo.
 
A chilling look into the deranged mind of a monster, The Red Ripper is a comprehensive and shocking true crime account—plus photos—of one of the twentieth century's deadliest killers and the manhunt to catch him.
 
About the Author
---
Peter Conradi is a British author and journalist and is currently foreign editor of the Sunday Times. He has previously been a foreign correspondent in Belgium, Switzerland, and the Soviet Union. Conradi's books include The Red Ripper: Inside the Mind of Russia's Most Brutal Serial Killer, Mad Vlad: Vladimir Zhirinovsky and the New Russian Nationalism, Hitler's Piano Player: The Rise and Fall of Ernst Hanfstaengl, and, with coauthor Mark Logue, the bestselling The King's Speech: How One Man Saved the British Monarchy, the inspiration for the Academy Award–winning film of the same name. His forthcoming book, Who Lost Russia?: How East and West Fell In and Out of Love, will be published in December 2016.