Neil Gaiman's Troll Bridge (Hardcover)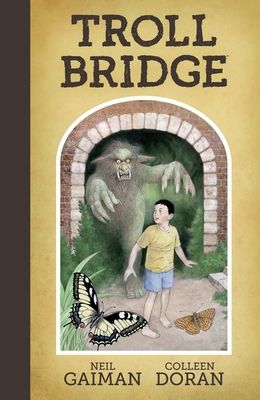 $14.99
Unavailable- email or call for Special Order request
Description
---
The inimitable Colleen Doran adapts Neil Gaiman's tragic coming-of-age fantasy masterpiece! 

When Jack was a young boy, his world was full of ghosts and ghouls, but one such monster--a ravenous and hideous troll--would haunt him long into manhood. As the beast sups upon a lifetime of Jack's fear and regret, Jack must find the courage within himself to face the fiend once and for all!
About the Author
---
Colleen Doran adapts as well as illustrates this short story writtn by Neil Gaiman.
Her published works number in the hundreds with clients such as The Walt Disney Company, Marvel Entertainment, DC Comics, Image Comics, Lucasfilm, Dark Horse Comics, Harper Collins, Houghton Mifflin, Sony, and Scholastic. Her credits include Amazing Spiderman, Guardians of the Galaxy, Sandman, Captain America, Wonder Woman, The Legion of Superheroes, The Teen Titans, Walt Disney's Beauty and the Beast, Anne Rice's The Master of Rampling Gate, Clive Barker's Hellraiser, Clive Barker's Nightbreed, A Distant Soil, The Silver Surfer, Lucifer, and many others.
Recent works by Colleen include art for Stan Lee's autobiography, AMAZING FANTASTIC INCREDIBLE STAN LEE, cover art for THE WALKING DEAD, projects with Warren Ellis, Alan Moore's BIG NEMO for ELECTRICOMICS, art and stories for THE VAMPIRE DIARIES comics series from DC Comics, based on the hit television show, as well as cover art for SHIELD at Marvel, based on the hit television show MARVEL: AGENTS OF SHIELD.