Starship Down (Paperback)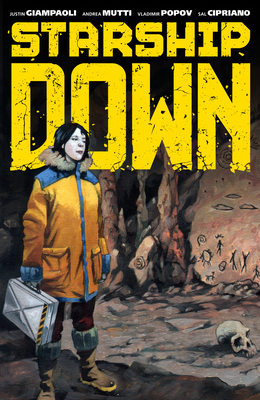 Description
---
A taut sci-fi drama by exciting newcomer Justin Giampaoli (Rome West) with captivating art by comics virtuoso Andrea Mutti (Rebels, The Girl with the Dragon Tattoo, Control).

Government and religious agencies clash as our understanding of human history collapses when a UFO discovered in a confidential location in a Russian mining operation calls into question the origin of humanity.



A cultural anthropologist consults with US Naval Intelligence to investigate the discovery of an extraterrestrial ship buried under the ice for thousands of years in Siberia. The meddling Russians, Vatican officials, the international media spotlight, and her own insecurities all threaten her efforts to keep the fabric of society from crumbling as mankind discovers its startling origin.
About the Author
---
Justin Giampaoli was a prolific critic at Thirteen Minutes and Comics Bulletin for over a decade. As a writer, his work includes the self-published crime caper The Mercy Killing with artist Tim Goodyear, and introductions and bonus content for New York Times Bestseller DMZ at DC/Vertigo. His current projects include the alt-history epic Rome West with Eisner Award-Nominated writer Brian Wood and cover artist Matthew Taylor, and the sci-fi drama Starship Down with artist Andrea Mutti, both published by Dark Horse.