Recipes for Royals: An Unofficial Cookbook for Fans of the Crown—75 Regal Recipes (Hardcover)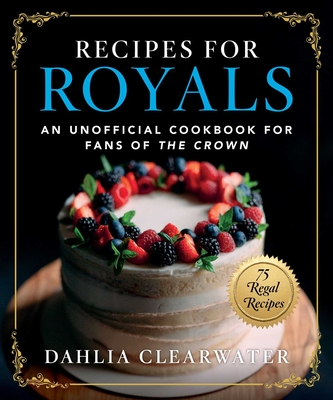 $19.99

Usually Arrives in 3-5 Days
Description
---
Delicious dishes inspired by Netflix's award-winning hit The Crown.
 
Anglophiles, royalists, and binge watchers rejoice!
Recipes for Royals
is the culinary companion fans of
The Crown
have been clamoring for since the gripping historical drama first graced their television screens. Immerse yourself in the intrigue, history, and splendor of
The Crown
with foods inspired by the show
and
the real-life royals themselves. Now, you can enjoy the seasonal favorites, perfectly prepared wild game, and decadent chocolate desserts that have delighted Queen Elizabeth's family for decades.  
Discover 75 delectable recipes in the traditions of Buckingham Palace, Downing Street, and Commonwealth countries far and wide, including:  
One Night in Kenya Soup
The Iron Lady's Kedgeree
Mushroom Risotto Fit for a Prince
Life-Changing Orange Duck
The Queen's Chocolate Perfection Pie
Ménage à Trois Mousse
Will's Favorite Chocolate Biscuit Cake
With effortless recipes and interesting tidbits from inside the monarchy,
Recipes for Royals
is more than just a mouthwatering cookbook—it's a regal keepsake.  
About the Author
---
Dahlia Clearwater is a baker and huge fan of The Crown who delights in sharing her favorite British foods and traditions with friends and family. She is also the author of Teatime at Grosvenor Square: An Unofficial Cookbook for Fans of Bridgerton. She lives in New York City with her dashing husband, their two boys, and one opinionated Yorkshire terrier. 
Praise For…
---
"In Recipes for Royals, you'll find everything from Winston Churchill's Potato-Leek Soup, Kate's Chicken Curry, Comforting Welsh Rarebit, to The Queen's Dubonnet Cocktail. There are recipes for lighter fare and family dinners, as well as ideas for afternoon tea, desserts, and cocktails. All the recipes are inspired by either the series The Crown or the lives of real royals. And while the Queen has her own personal chefs and a full cooking staff, it doesn't mean you'll need the same to make these recipes.

The Plain Shortbread Cookies which were by far the best recipe I've found for shortbread cookies. They came out super tasty and perfect. The recipes are easy to follow and delicious, great for those who are fans of The Crown or just like cooking." —Seattle Book Review