Elegant Pie: Transform Your Favorite Pies into Works of Art (Hardcover)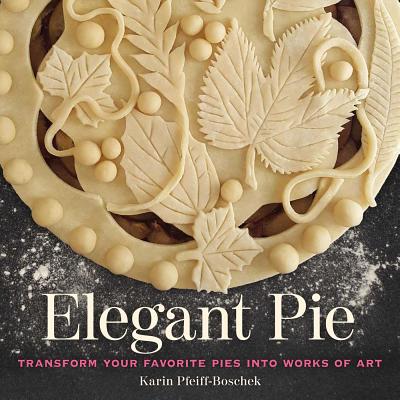 $24.99

Usually Arrives in 3-5 Days
Description
---
Enjoy 25 edible works of art with this step-by-step guide to creating the perfect pie.

Everyone knows that serving a pie for dessert makes guests happy. And serving one with a beautifully designed crust that makes guests swoon is even better. Pies are easy to make as stunningly attractive as the most decorative cakes using some basic techniques and the appropriate care when working with pie dough.

The recipes and techniques presented in this book give any home baker the tools they need to create breathtaking works of pie art. From preparation of the dough to the last moments of baking, all methods are clearly presented using step-by-step photographs. A flat surface, rolling pin, sharp knife, different size and shaped cookie cutters make embellishing an ordinary pie crust easy. The 25 designs, arranged by three levels of difficulty, range from graphic art styles to seasonal-inspired florals.

Beautifully decorated pies are a hit on social media, and until now there has not been a book on how to create these stunning works of edible art. Karin Pfeiff-Boschek is a master pie designer and explains in detail her textile-based methods used to reproduce her most popular top crust works of art.
 
About the Author
---
Karin Pfeiff-Boschek was born and lives in a rural area of central Germany. Both of her grandmothers were avid bakers and influenced Karin as a young child so that she began a baking career in her early years. After meeting her US-born husband she became interested in pie baking. Coming from the field of textile design she began applying her training to the embellishment of pie crusts. In less than two years her Instagram account grew to include 200 of her edible art works and over 85,000 followers. As a skilled and talented photographer she presents her pies in dramatic and appealing photographs. In addition to baking and photography Karin, together with her husband has completely renovated a 22-room abbey in which they live.
 
Praise For…
---
"Picture the pie as a blank canvas for edible art—or at least that's the premise behind this gorgeous cookbook. And forget about the intimidation factor; the beginner chapter eases you into pie crust decor with only a few special tools (think cool cookie cutters). As the book progresses, so do your skills." (Taste of Home)