The Far Side® 2022 Wall Calendar (Calendar)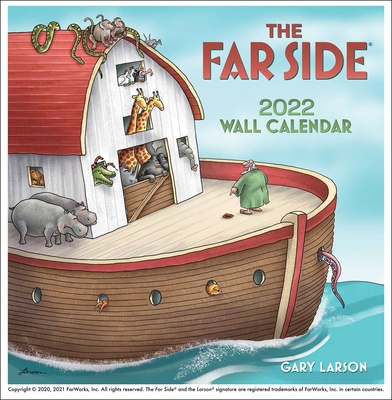 Description
---
A wickedly funny collection of new comic art from the creator who introduced The Far Side® cartoons to the world demands nothing less than to be displayed on the walls of every home, barn, office, and science lab.
He's at it again. Gary Larson has taken to spending countless hours on his tablet creating art and experimenting with new techniques. The brilliant conjurings he's produced for
The Far Side
®
2022 Wall Calendar
contain the same imagination, talent, and bizarre sense of humor he's renowned for. Make 2022 the year you bask in the glow of Larson's comic genius with baking gorillas, psychopathic snowmen, and murderous vultures. Cheers to twelve months of irony, absurdity, and schadenfreude!
Features include:
A new Gary Larson creation on each monthly spread
Generous grids provide space for appointments and reminders
Three-year calendaria for reference
Opens to 12 inches x 24 inches
Widely celebrated and nationally recognized holidays and observances
Printed on FSC-certified paper with soy-based ink
About the Author
---
The Far Side was syndicated in more than 1,900 daily newspapers from 1980 to 1995, when Gary Larson retired. During its run, the cartoon spawned 22 books from AMP, which were translated into a total of 17 different languages. For his work with The Far Side, Larson was awarded the Reuben Award for Outstanding Cartoonist from the National Cartoonists Society in 1991 and 1994. The group also named The Far Side Best Syndicated Panel in both 1985 and 1987.