The Witch's Throne (Paperback)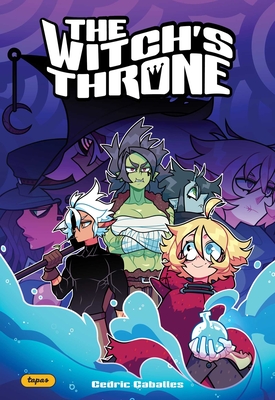 $15.99

Usually Arrives in 3-5 Days
Description
---
The Witch's Throne, based on the hit Tapas webcomic, is a riotous action-packed graphic novel epic that blends fantasy, comedy, manga, and a love of RPG adventure stories.  

A warrior. A rogue. A saint. And an alchemist with skeleton arms?

Every ten years, throne seekers compete to become the four heroes destined to slay the Witch threatening their world. Optimistic young alchemist Agni eagerly sets off to fulfill her dream of being one of these sacred heroes. She expects to save the world...and maybe make some friends along the way. But she soon realizes that nothing is as straightforward as it is in her childhood stories, and becoming a hero may come at a terrible cost.
About the Author
---
Cedric Caballes (WhatAHero) is a comic enthusiast and avid gamer. He lives in Maryland.
Praise For…
---
A quest to stop a prophesied evil, full of fantasy archetypes and special attacks and based on a popular webcomic.

Agni is a human alchemist with skeleton arms who dreams of making friends and taking down a powerful witch. Danger in the form of bandits almost immediately finds her, but her potions are explosively powerful. Before long, she befriends Grom, an elf/giant blacksmith with an eye patch and prosthetic legs who can summon an array of bladed weapons. Together they beseech Reksha, an orc/dwarf combat expert, to train them for the upcoming witch hunt tournament that determines the heroes who will fight the witch. Agni grew up sheltered and possesses a painfully altruistic worldview that endears her to others. Sepia-toned flashbacks reveal the characters' backstories and motivations, gradually fleshing out their personalities. Video game and shonen manga influences are explicit as characters shout the names of their over-the-top special attacks, resulting in shock waves and damage. Fighting game parries also figure into the action. The world operates according to tabletop and video game logic laid down by a wizard, which is all the explanation needed when the characters are this fun and compelling. The narrative's shifting perspective keeps track of an expansive roster of friends and foes. The diverse cast includes a range of skin tones and colors, including human and fantasy races.

Put down that controller, manga, and 20-sided die and get lost in this tale inspired by them all. (Graphic fantasy. 13-17)
(Kirkus Reviews, Kirkus Reviews)

A young alchemist dreams of joining a team of heroes to combat an ancient evil in this action-packed graphic novel by Caballes, based on a webcomic. When human Agni Arvelle was young, her mother would tell her tales of legendary heroes destined to save the world from the evil witch planning to "eradicate all life." After discovering that the legend is real, Agni is determined to join the heroes in their quest to stop the witch. But when Agni, now a learned alchemist, sets out to test her skills in the yearly witch hunt, she realizes that the harsh reality outside her home, where she faces ambushes and potential dismemberment at every turn, may be more than she can handle alone. She befriends half-giant and half-elf blacksmith Grom, and together, the duo train for the hunt's culmination—a tournament that determines who will face the witch. Caballes smartly renders the sometimes overwhelming mechanics of classic TTRPGs into Agni's world in an easily digestible manner, making status effects and barbarian rages feel as naturally entrenched in the setting as the mystical creatures who inhabit it. Richly detailed lore and vibrant color palettes handily elevate this high-stakes fantasy adventure. Ages 13–17. (Oct.) (Publishers Weekly, Publishers Weekly)