OMG That's Me!: Bipolar Disorder, Depression, Anxiety, Panic Attacks, and More... (Paperback)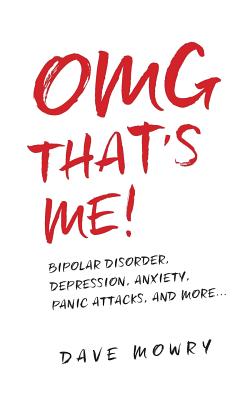 $8.45

Usually Arrives in 3-5 Days
(This book cannot be returned.)
Description
---
"OMG That's Me " Named to BookAuthority's list of best Bipolar Disorder books of all time
What started out as a couple of blog posts blossomed into a following of over 1,000,000 people-who have all read and been touched by Mowry's stories. The most extraordinary thing he found when writing about his experiences is that the most common comment about his work is "OMG that's me. You are telling my story. I don't feel so alone now."
Living with mental illness is hard, but it's especially difficult when dealing with more than one condition at the same time. Many books about coping with mental illness focus on one disorder, such as anxiety, panic attacks, or depression. Because Dave Mowry didn't see any that dealt with his situation of living with multiple disorders simultaneously, he decided to write about it himself.
OMG That's Me is poignant, sometimes funny, but always deeply honest, open, and personal. Mowry's stories let others know there is help and there is hope, and that they too can recover and live a full life. This book is a must read for family members and friends who will gain true insight into the experiences of loved ones living with a mental illness. This book is a must read for mental health professionals who will better understand the symptoms faced by their patients. And ordinary people will see the strength, resilience, and beauty of people that will shatter the stigma surrounding mental illness.Next in the OMG That's Me series is OMG That's Me 2 Bipolar Disorder, Depression, Anxiety and Hope featuring the writings of Julie A. Fast
About the Author
---
Dave Mowry is an author living in Happy Valley, Oregon, with his wife, Heather. He lives with bipolar disorder, depression, severe anxiety, panic attacks, and more. Writing about his experiences has allowed him to reach out to others and build strength through empathy. Mowry has also co-written No Really, We Want You to Laugh, a book about being a stand-up comedy teacher who caters specifically to those with mental illnesses. He and the other comics perform throughout the Northwest for audiences of thirty to four hundred people. He is also a certified peer support specialist and the co-founder and executive director of the nonprofit mental health-focused Peer Wellness and Work Initiative. Dave blogs for the bipolar-focused bp Magazine for Bipolar, in which many of his most popular articles can be found.