Deaf Republic: Poems (Paperback)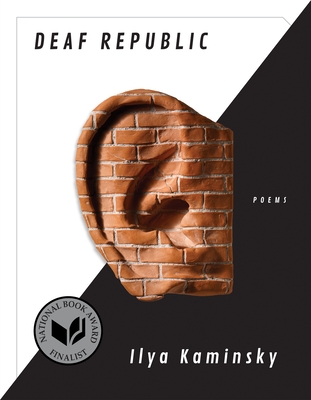 $17.00

Usually Arrives in 3-5 Days
Description
---
Finalist for the National Book Award • Finalist for the PEN/Jean Stein Award • Finalist for the National Book Critics Circle Award • Winner of the Los Angeles Times Book Prize • Winner of the Anisfield-Wolf Book Award • Winner of the National Jewish Book Award • Finalist for the Kingsley Tufts Poetry Award • Finalist for the T. S. Eliot Prize • Finalist for the Forward Prize for Best Collection

Ilya Kaminsky's astonishing parable in poems asks us, What is silence?

Deaf Republic opens in an occupied country in a time of political unrest. When soldiers breaking up a protest kill a deaf boy, Petya, the gunshot becomes the last thing the citizens hear—they all have gone deaf, and their dissent becomes coordinated by sign language. The story follows the private lives of townspeople encircled by public violence: a newly married couple, Alfonso and Sonya, expecting a child; the brash Momma Galya, instigating the insurgency from her puppet theater; and Galya's girls, heroically teaching signing by day and by night luring soldiers one by one to their deaths behind the curtain. At once a love story, an elegy, and an urgent plea, Ilya Kaminsky's long-awaited Deaf Republic confronts our time's vicious atrocities and our collective silence in the face of them.
About the Author
---
Ilya Kaminsky was born in the former Soviet Union. He is the author of a poetry collection, Dancing in Odessa, and coeditor of The Ecco Anthology of International Poetry. He was a 2014 finalist for the Neustadt International Prize for Literature.
Praise For…
---
One of the New York Times's 100 Notable Books of 2019

"These poems bestow the power of sacred drama on a secular martyrology. . . . Kaminsky is wonderfully attentive to . . . repeating patterns of details, contributing to the impression that his book is a through-composed whole, rather than simply a sequence of individual poems. . . . By situating these poems in a country at war, Kaminsky forces the reader to consider both the ways in which we define our social belonging and the loyalties according to which we operate. . . . A visit to this republic will not leave the reader unchanged."—The New York Times Book Review

"Evident throughout [Deaf Republic] is a profound imagination, matched only by the poet's ability to create a republic of conscience that is ultimately ours, too, and utterly his own—a map of what it means to live 'in a peaceful country.'"—Kevin Young, The New Yorker

"Described as a 'parable in poems,' Kaminsky's soulful new collection opens on an act of horrific violence before meditating on silence and deafness in times of political unrest. The language is exquisite; the ethical questions Kaminsky poses are provocative."—Entertainment Weekly

"Re-envisioning disability as power and silence as singing, Kaminsky has created a searing allegory precisely tuned to our times, a stark appeal to our collective conscience."—NPR.org

"Cutting-edge."—The Washington Post

"With lyrical and fearless language, Ilya Kaminsky has written an engrossing page-turner that challenges society's silence, and celebrates the power of community in the face of violent atrocities."—The Seattle Times

"Deaf Republic is harrowing and damning, if we dare to listen."—Vox

"[Deaf Republic] is curved with beautiful oddities of phrase. . . . A play in verse, a novel in verse, collective pain in verse—classifications are unnecessary here, as Kaminsky's book is at its soul a story. . . . Deaf Republic arrives, textured and alive."—The Millions

"With Deaf Republic, Kaminsky delivers another stunning achievement."—Kenyon Review

"The peculiar achievement of Deaf Republic—echoey with calls and responses, song and clamor—is that the whole is not simply greater than its parts: it is their counterargument, their antidote."—Poetry Magazine

"Within the world of these poems, silence becomes both a foreshadowing and an appeal, as these gaps leave room for the reader to participate in the poems' revolutionary politics."—The Brooklyn Rail

"[Deaf Republic] sings with a necessary freshness."—World Literature Today

"Deaf Republic is nurtured by a commitment to poetry as a form of resistance, dialogue, and a noble spiritual vocation—ethos that hearkens back to poetry's origins and its power."—Tablet Magazine

"Breathtaking . . . a highconcept interrogation of individual and civic response to political upheaval and collective action."—American Poets

"Deaf Republic contains some of the most exquisite lines you'll find in contemporary poetry."—New York Journal of Books

"Kaminsky demands that we reevaluate our own language — about deaf culture, about silence itself — in a time when language in the larger, cultural public square has never been more vitriolic. . . . Deaf Republic is a masterfully wrought collection."—Los Angeles Review of Books

"Kaminsky speaks of our darkest days, of tyranny and death. Yet he sings of the world—of poetry and dance and sex and love—with the highest praise."—Commonweal Magazine

"Few poets can claim such originality, intensity of feeling and expression, and conscience."—Blackbird

"Intoxicating and wondrous. . . . In these sincere, striking poems, Kaminsky posits the beauty of this world as essential."—BookPage

"Deaf Republic is stringent medicine for all nations, especially powerful ones that have grown slack in their apprehension and practice of the 'categorical imperative.' With its lapidary, figurative conceits, this poem that weaves in and out of poetry, drama, and prose as a hybrid and liminal tour de force works on both the stage and page as a poignant reminder for our present age of the proverbial dangers of fascism's recrudescence."—On the Seawall

"A contemporary masterpiece."—Washington Examiner

"Kaminsky's Deaf Republic is both rigorous and profound. Kaminsky reveals himself as a showman of narrative, informed by a deep sense of character and tension, as well as a skillful lyricist, present with each syllable, each letter, each rhythm the breath makes as it darts its ways around his sparse and elegant poems."—Michigan Quarterly Review

"A bruising, haunting examination of humanity's paradoxical reserve for great compassion and endless cruelty, Deaf Republic holds an unsettling gaze on how we love amid chaos and despair."—Carolina Quarterly

"In Kaminsky's lines, sound takes visible shape. The ordinary things of the world transmogrify, and a small detail, stripped down, takes on the weight of a country."—The Critical Flame

"Deaf Republic challenges us to think about listening, silence, and communication in a world that regards both violence and joy with dull indifference."—Barrelhouse

"A riveting and emotional story line with parallels to the author's life, which relies on plain spoken diction, repetition, and small moments of romantic desire to anchor its larger political themes."—Publishers Weekly, starred review

"The product of 15 years of meditation, this chilling work—an important warning about the forces of repression and a quiet salute to the courage of the few who resist—heralds the maturity of an important voice in world poetry."—Library Journal, starred review

"Stunning. . . . At once intimate and sensual but also poignant and timely."—Booklist, starred review