Soledad Brother: The Prison Letters of George Jackson (Paperback)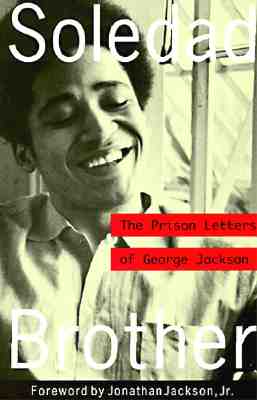 $18.95

Usually Arrives in 3-5 Days
Description
---
"The power of George Jackson's personal story remains painfully relevant to our nation today, with its persistent racism, its hellish prisons, its unjust judicial system, and the poles of wealth and poverty that are at the root of all that. I hope the younger generation, black and white, will read Soledad Brother."  —Howard Zinn, author, A People's History of the United States

A collection of Jackson's letters from prison, Soledad Brother is an outspoken condemnation of the racism of white America and a powerful appraisal of the prison system that failed to break his spirit but eventually took his life.
Jackson's letters make palpable the intense feelings of anger and rebellion that filled black men in America's prisons in the 1960s. But even removed from the social and political firestorms of the 1960s, Jackson's story still resonates for its portrait of a man taking a stand even while locked down.
About the Author
---
George Lester Jackson was an African-American left-wing activist, Marxist, author, a member of the Black Panther Party, and cofounder of the Black Guerrilla Family while incarcerated. Jackson achieved fame as one of the Soledad Brothers and was later shot to death by prison guards in San Quentin Prison during an escape attempt. Jean Genet was a prominent and controversial French novelist, playwright, poet, essayist, and political activist. His major works include the novels Querelle of Brest, The Thief's Journal, and Our Lady of the Flowers, and the plays The Balcony, The Blacks, The Maids and The Screens.Jonathan Jackson Jr. is the nephew of George Jackson, the author of Soledad Brother.
Praise For…
---
 "The power of George Jackson's personal story remains painfully relevant to our nation today, with its persistent racism, its hellish prisons, its unjust judicial system, and the poles of wealth and poverty that are at the root of all that. I hope the younger generation, black and white, will read Soledad Brother."  —Howard Zinn, author, A People's History of the United States

"[George Jackson was] a talented writer, a sensitive man, a potential leader and political thinker of great persuasiveness." —Tom Wicker, New York Times
 

"Jackson emerges from obscurity transformed from a precipitous, despair-ridden adolescent into a man of knowledge, passion, and control, into a demon energy of absolute commitment, into a terrible prophet." —Washington Monthly

"When Soledad Brother was first published, many people sensed in George Jackson the successor to Malcolm X.  . . . It showed Jackson, like Malcolm, developing a theory and eloquently expressing a vision of the path to African American freedom through the unity of the peoples oppressed by imperialism. This makes the book extremely dangerous—and therefore, as the author must have known (see his June 4, 1970, letter to Angela Davis), potentially his own death warrant. Though George Jackson was murdered ten months after the book was published, Soledad Brother remains a menace to the powers that killed him. —H. Bruce Franklin, author of Prison Literature in America

"A penetrating and scathing indictment of capitalist American life." —Ebony