Big Guy and Rusty the Boy Robot (Paperback)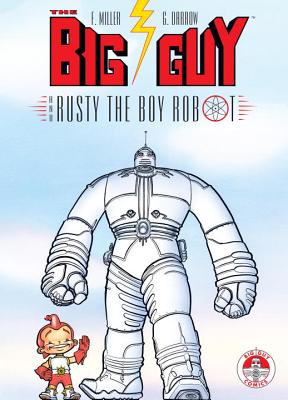 $14.95
Usually Arrives in 3-5 Days
Description
---
Front and center, America! Here comes action! Here comes adventure! Here comes The Big Guy and Rusty the Boy Robot — a roller-coaster ride through the minds of Geof Darrow and Frank Miller, the tag team that set you reeling with their hard-hitting series, Hard Boiled! Everything you remember about being eight years old and watching monster movies is right here, but with all the magnified detail that you always wanted to see. Geof Darrow was awarded an Eisner for his spectacular artwork on the original hit miniseries, The Big Guy and Rusty the Boy Robot. For all the time and all the care he lavished on those pages, it's an award that was well-earned. When Geof first came into the Dark Horse offices with the finished pages for the series based on Frank Miller's script, we were all stunned by the detail...

A gargantuan monster is tearing apart downtown Tokyo and turning its fair citizens into a menagerie of grotesques! Can anyone stop the carnage? Can anyone save the city? Enter Rusty, the Boy Robot, Japan's biggest big gun! If he can't atomize the atomic monstrosity, nobody can!
About the Author
---
Frank Miller began his career in comics in the late 1970s, first drawing then writing Daredevil for Marvel Comics, creating what was essentially a crime comic disguised as a superhero book. It was on Daredevil that Miller gained notoriety, honed his storytelling abilities, and took his first steps toward becoming a giant in the comics medium. After Daredevil came Ronin, a science-fiction samurai drama that seamlessly melded Japanese and French comics traditions into the American mainstream; and after that, the groundbreaking and acclaimed Batman: The Dark Knight Returns and Batman: Year One, both of which not only redefined the classic character, but also revitalized the industry itself. Finally able to fulfill his dream of doing an all-out, straight-ahead crime series, Miller introduced Sin City in 1991. Readers responded enthusiastically to Miller's tough-as-leather noir drama, creating an instant sales success. His multi-award-winning 300 series from Dark Horse, a telling of history's most glorious and underreported battle, was brought to full-blooded life in 1998. In 2001, Miller returned to the superhero genre with the bestselling Batman: The Dark Knight Strikes Again. Frank Miller continues to push the medium into new territories, exploring subject matter previously untouched in comics, and his work consistently receives the highest praise from his industry peers and readers everywhere. In 2005, with the hugely successful Sin City movie release, codirected with Robert Rodriguez, Miller added a director's credit to his already impressive résumé and introduced his characters to an entirely new legion of fans worldwide.

Geof Darrow is an ex–altar boy, garden mechanic, and writer/artist of Shaolin Cowboy, Hard Boiled, and Big Guy and Rusty the Boy Robot. The author lives in Chicago, Illinois.