The Nonrunner's Marathon Guide for Women: Get Off Your Butt and On with Your Training (Paperback)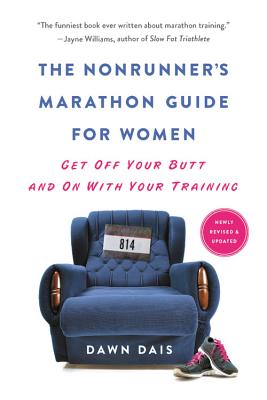 Description
---
Anyone can run a marathon. Dawn Dais makes it a little more bearable -- and a lot more fun

Dawn Dais hated running. And it didn't like her much, either. Her fitness routine consisted of avoiding the stairs in her own house, because who really has the energy to climb stairs? It was with this exercise philosophy firmly in place that she set off to complete a marathon.

The Nonrunner's Marathon Guide for Women is the ideal training manual for women who don't believe that running is their biological destiny but who dream of crossing the finish line nonetheless. Nonrunners offers a realistic training schedule and is chock-full of how-to's and funny observations, which she felt were lacking in the guides she had consulted. She also integrates entries from her journal, sharing everything would-be marathoners need to know about the gear, the blisters, the early morning workouts, the late-night carb binges, and most important of all, the amazing rewards.

Running may not seem like a friendly endeavor, but with Dawn Dais, you can tame the beast and hit the marathon trail.
About the Author
---
Dawn Dais is an author, freelance writer, and designer. Her previous books include The Sh!t No One Tells You series of parenting titles. She lives in Sacramento.
Praise For…
---
"Dawn Dais is your average nonrunner who experienced firsthand what it's like to shake up the routine and train for a marathon--and finish it! This is a funny guide that provides needed motivation for a journey that can change your life for the better."—U.S. Olympian Jeff Galloway, author of the bestselling book Marathon

"This is the funniest book ever written about marathon training-an essentially absurd process that is taken too seriously by far too many runners. This is a must-read for couch potatoes who accidentally sign up for this ambitious athletic event and then think, Oh my god, what have I done?"—Jayne Williams, author of Slow Fat Triathlete: Live Your Athletic Dreams in the Body You Have Now