Art of the Pie: A Practical Guide to Homemade Crusts, Fillings, and Life (Hardcover)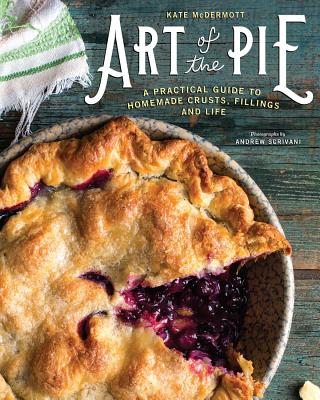 $35.00

Usually Arrives in 3-5 Days
Description
---
The pie-making classic named one of 2016's best cookbooks by NPR, Oprah.com, USA Today, Bon Appétit, Cosmopolitan and more.
"A new baking bible." —Wall Street Journal

"If there's such a thing as a pie guru, it's Kate McDermott." —Sunset Magazine
Pie making should be simple and fun. Kate McDermott, who learned to make pie from her Iowa grandmother, has taught the time-honored craft of pie-making to thousands of people. In Art of the Pie she shares her secrets to great crusts (including gluten-free options) with instructions for making, rolling, and baking them, as well as detailed descriptions for ingredients, methods, and tricks for making fillings. Organized by type of fruit, style of pie, and sweet versus savory, recipes range from apple to banana rum caramel coconut, raspberry rhubarb to chicken potpie. Along with luscious photography, McDermott makes it very easy to become an accomplished pie maker. This is the only PIE cookbook you need.
About the Author
---
Kate McDermott is the James Beard Award–nominated author of Art of the Pie. Her Pie Camps, held nationwide, regularly sell out. McDermott, who has been featured by the New York Times, Saveur, NPR, and elsewhere, lives in Port Angeles, Washington.

Andrew Scrivani is a food and lifestyle photographer, internationally recognized workshop instructor, and columnist. He is a weekly contributor to the New York Times, and his photographs appear in numerous cookbooks. He lives in New York City.
Praise For…
---
Baking from Art of the Pie is like having pie maker Kate McDermott at your elbow, encouraging, instructing and cheering you on. Whether you're a seasoned pie hand or a beginner with more enthusiasm than skill, Kate's got you covered.

— Dorie Greenspan, award-winning author of Dorie's Cookies

Kate McDermott will not only teach you how to make a pie—and a damn fine pie at that—she'll show you how the homey and grounding craft of baking contains important life lessons. Her expertise, creativity, and generosity abound in these pages. The Art of the Pie is destined to be one of those fruit-stained, dog-eared, spine-snapped books you'll cherish for years.
— David Leite, Leite's Culinaria

I've been baking pies my entire life, but making them with Kate was a liberating experience. With pioneer spirit she throws the textbook out the window and comes up with absolutely perfect crust filled with fruit that actually sings to you, telling you when it's ready to be removed from the oven.
— Ruth Reichl, Former editor of Gourmet, Author of Tender at the Bone and Comfort Me with Apples among other titles

I literally read it cover to cover. Kate's recipes are logical and easy to follow, her hints and tricks helpful to even the most experienced pie baker. Her level of expertise is through the roof, and her confidence shines through in everything she says.
— Theresa Carle-Sanders, author of Outlander Kitchen

Kate McDermott is a pie maker's pie maker, someone who knows the ins and outs of pie in a way few others do. She brings several decades of experience to her beloved craft. More importantly, however, she exudes the passion and joy we all hope to see in our mentors—the obvious reason that her pie camps and workshops regularly sell out. Kate's on my short list of the best pie teachers around.
— Ken Haedrich, Author of Pie

A new baking bible.
— The Wall Street Journal

Though I've never had the pleasure of taking one of her pie camp classes, reading her books is the next best thing. Yes, you can pick up the book, turn to a recipe and make something delightful. But reading it is like hanging out with Kate, warm, inviting and comforting.
— Irvin Lin, author of Marbled, Swirled, and Layered

Kate McDermott is God's gift to the nervous pie maker. Not only will Art of the Pie make you into a confident, versatile, and charming pie maker, it will teach you the secret to being a confident, versatile, and charming human being. Wisdom is baked into every page of Art of the Pie, as it is into every lovingly made confection.

— Rowan Jacobsen, James Beard Award-winning author of A Geography of Oysters and Apples of Uncommon Character

McDermott, a self-taught baker whose workshops have taught hundreds how to make a proper pie, shares that knowledge in one of the best books written on the topic. Those expecting a quick preamble followed by hundreds of pie recipes will be sorely disappointed—basic instructions take up a third of the book—but readers interested in the hows and whys of pie-making will find McDermott's tutelage invaluable… McDermott excels, giving readers an informative guide they will be referring to for years to come.
— Publishers Weekly (starred review)

In Art of the Pie,, Kate McDermott, a home baker who teaches Pie Camps across the country, shares dozes of recipes for all the pie combinations you can dream up. What really blew our mind was her recipe for a gluten-free nutty no-bake crust that we want to eat with a gooey chocolate filling at the next pie opportunity. (Note to self: Create more pie opportunities.)

— Bon Appétit

If there's such a thing as a pie guru, it's Kate McDermott.
— Sunset Magazine

The next best thing to taking one of her classes.
— The Washington Post

Kate McDermott is a masterful, no, magical teacher. She reminds us that pies, like human beings, don't have to be perfect, all the while showing us in perfect detail how to make a truly great pie.
— Elise Bauer, SimplyRecipes.com

Not just on crusts and fillings but life itself. A keeper.
— Atlanta Journal-Constitution

Heartwarming and funny…an instructive debut.
— Library Journal

Kate McDermott's Art of the Pie will make you want to spend your waking life baking pies. She guides you step-by-step, making pie crusts and all sorts of fillings, teaching you how to handle traditional pie dough nimbly with your fingers so that your pastries turn out both tender and flaky. I've taken Kate's workshops and can honestly say I've never made a better crust. Her book will become your lifelong friend.

— Greg Patent, James Beard-winning author of Baking In America and A Baker's Odyssey

Kate McDermott teaches us how to make a perfect pie—and more than that, she teaches us how to understand what we're doing and why. In her hands, both baking and life seem sweeter.
— Rebekah Denn, Seattle journalist and two-time recipient of the James Beard Award for food writing

Gorgeous…a dream of a cookbook.
— Eat Your Books

Kate McDermott is a pie guru, gently and delectably guiding her students in a moving meditation on sugar, fat, flour and fruit.
— Becky Selengut, Chef, instructor, author of Good Fish and Shroom

One of the fondest memories of my life is baking pies with Kate. This extraordinary woman makes magic in the kitchen. Not only did she give me the skills to make spectacular treats for my family and friends, I learnt about love and life. Now, you can, too! And, with Kate, it's as easy as pie…
— Tess Masters, author of The Blender Girl and The Blender Girl Smoothies

Kate, whom I fondly refer to as 'the Pie Queen,' is one of the most passionate, talented bakers I know and a fount of pie knowledge. She seems to have singlehandedly brought back the tradition of home baking pies; she inspires so many of us to get back into the kitchen and bake just with her warm encouragement, her thoughtful guidance, and her incredible, scrumptious pies! For those of us not yet lucky enough to go to Kate's pie camp, her cookbook is very much anticipated, much like a generous wedge of pie warm from the oven!
— Jamie Schler, Award-winning food writer

Kate McDermott guides us through the zen of pie with patience, kindness, and humor...from her reliable butter-and-leaf-lard crust to the "secret of the sizzle-whump" to the "recipe" for a good mud pie, her guidelines are the ones you want in your kitchen for the rest of your baking life—and after, if you have a choice.
— Jess Thomson, author of A Boat, A Whale & A Walrus

With cold hands and a warm heart, Kate McDermott uses flour, fat, fun, and forgiveness to teach the Art of the Pie—lessons in pie making that take us far beyond the kitchen counter.
— Nancy Leson, Seattle food writer and KPLU food commentator

Kate is without doubt the Queen of the American Pie. There is nothing about pies that she doesn't know, and she is so generous in the way she shares this knowledge.
— Alison Swan Parente, Founder, The School of Artisan Food, UK

The cover of this wonderful book had me running for my rolling pin. Once inside this delicious homage to pie I was smitten. The coffee is brewing. Well baked Kate McDermott!
— Aileen Bordman, MonetsPalate.com

It is so rare of late for someone to completely take on a task; to master it; to make it theirs in its entirety. Kate McDermott has become the master of pie making and her enthusiasm and love of this core skill is infectious. Reading through Art of the Pie, I was tempted at every page to put the book down and roll out my own pie, and to share in her love of this great craft.

— Kurt Timmermeister, Farmer and author of Growing a Feast: The Chronicle of a Farm-to-Table Meal and Growing a Farmer: How I Learned to Live Off the Land

A brilliant, expert teacher, Kate gives away the magic, coaching and encouraging beginners while inspiring experienced pie makers to embrace and understand the how and the why of pie. This book glows with Kate's passion and knowledge, which she shares with clarity and kindness. Sweet and savory, wheat and gluten-free, double-crust and lattice topped—it's all here, shared with Kate's expertise, generosity, and joy.
— Nancie McDermott, Author of Southern Pies: A Gracious Plenty of Pie Recipes from Lemon Chess to Chocolate Pecan

Kate has long been my go-to source for all things pie. In Art of the Pie, Kate achieves in print what she does in her classes and blog: serves as a patient and encouraging teacher and guide who shepherds the reader through the process of making delectable pies that not only feed the body, but enrich the spirit. The recipes are wonderfully clear and easy to follow, and Kate provides helpful explanations about the processes and ingredients. Whether you are a newbie pie maker or an experienced one, this book will quickly earn pride of place on your most-used cookbook shelf.

— Jeanne Sauvage, author of Gluten-Free Wish List: Sweet and Savory Treats You've Missed the Most

Just as others roll out their yoga mats to still the mind, Kate McDermott rolls out pie dough. For her, making pie is a spiritual practice, the steps of which are a metaphor for the ups and downs of life. And what she practices she so masterfully teaches, spreading the good word, gospel, Tao of Pie—or whatever you want to call it—in a way that is like no one else. Is she a traveling preacher? Kind of. A fairy godmother, a den mother, an earth mother and a good witch, too. But one thing's for sure: She—and her world view of pies—singularly, deliciously Kate.
— Kim O'Donnel, author of The Meat Lover's Meatless Cookbook

In an era of video recipes and scientifically informed cuisine, Kate teaches us to make pie in the oral tradition passed down by generations of women before us. Art of the Pie puts the reader at a grandmothers knee, where the sensibility of pie is taught, along with a few life lessons. While information is now transferred in blips and bytes, zooming by us at increasing rates, it's pure wonder to take a step back with Kate, and learn not only how she makes her pies, but discover how we can begin to shape our own.

— Dana Cree, Author and executive pastry chef of the Publican restaurants in Chicago