The Bell of Treason: The 1938 Munich Agreement in Czechoslovakia (Hardcover)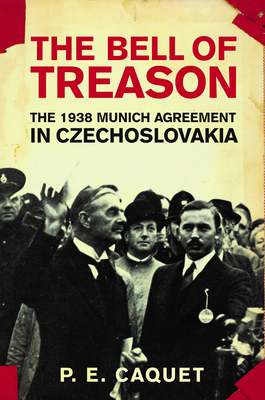 $27.99

Usually Arrives in 3-5 Days
Description
---
Drawing on a wealth of previously unexamined material, this staggering account sheds new light on the Allies' responsibility for a landmark agreement that had dire consequences.
 
On returning from Germany on September 30, 1938, after signing an agreement with Hitler on the carve-up of Czechoslovakia, Neville Chamberlain addressed the British crowds: "My good friends…I believe it is peace for our time. We thank you from the bottom of our hearts. Go home and get a nice quiet sleep." Winston Churchill rejoined: "You have chosen dishonor and you will have war."
 
P. E. Caquet's history of the events leading to the Munich Agreement and its aftermath is told for the first time from the point of view of the peoples of Czechoslovakia. Basing his work on previously unexamined sources, including press, memoirs, private journals, army plans, cabinet records, and radio, Caquet presents one of the most shameful episodes in modern European history. Among his most explosive revelations is the strength of the French and Czechoslovak forces before Munich; Germany's dominance turns out to have been an illusion. The case for appeasement never existed.
 
The result is a nail-biting story of diplomatic intrigue, perhaps the nearest thing to a morality play that history ever furnishes. The Czechoslovak authorities were Cassandras in their own country, the only ones who could see Hitler's threat for what it was, and appeasement as the disaster it proved to be. In Caquet's devastating account, their doomed struggle against extinction and the complacency of their notional allies finally gets the memorial it deserves.
About the Author
---
P. E. Caquet is a senior member of Hughes Hall, Cambridge. His PhD was published as The Orient, the Liberal Movement, and the Eastern Crisis of 1839–41. Before studying as a historian at Cambridge, he lived for ten years in Prague. He is fluent in Czech, Slovak, French, and German.
Praise For…
---
"The Bell of Treason focuses on the relatively neglected victim nation, Czechoslovakia, and how it experienced the fateful months from March through September 1938…important." —New York Review of Books

"The definitive history of a disgraceful event. A book both insightful and painful to read." —Kirkus Reviews

"Accessible and well-written…an intelligent and valuable addition to WWII history." —Publishers Weekly

"Caquet's powerful argument on the actions of the British and French in this crisis is strengthened by his points on Czechoslovakia itself…a moving account." —Dublin Review of Books

"Caquet revisits luminously one of the great 'what-ifs' of history. Carefully documenting every detail, but in white-hot language, he shows how Britain and France let slip at Munich in September 1938 their best chance of stopping Hitler. We see the Sudetenland crisis afresh through Czech eyes, and can measure at last the tragedy of that lively small country's betrayal." —Robert O. Paxton, author of The Anatomy of Fascism
 
"The disastrous 1938 Munich conference eighty years ago is usually seen from the vantage point of the victorious Hitler or the supine Anglo-French. Caquet's superb new account restores agency and subjectivity to the Czechoslovaks. Grippingly written with an eye for drama and dialogue, this book shows how close they came to resisting and just how traumatic the outcome was, not only for them but for the German democrats handed over to the Third Reich." —Brendan Simms, author of Britain's Europe
 
"What strikes the modern reader is how this is so much more than mere history—it is a frightening exploration of dangers that we see in the world today: fake news, lying politicians, and narrow-minded nationalisms all conspiring to threaten what is decent and open and honest. In this respect The Bell of Treason is more than compelling reading: it is essential." —Simon Mawer, author of The Glass Room