Bloom County: The Complete Library, Vol. 3: 1984-1986 (Hardcover)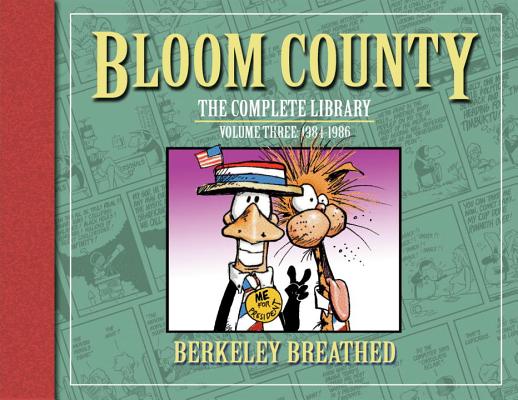 Other Books in Series
This is book number 3 in the Bloom County series.
Description
---
Bloom County: The Complete Library Volume 3 collects every strip from July 1984 through February 1986. Many fondly remembered strips are in this volume, including the classic 1984 presidential elections featuring possibly the finest running mates ever for such a campaign: Opus and Bill the Cat. Plus, a cornucopia of ingenious satire featuring the rest of the Bloom County cast: Steve Dallas, Mio, Binkley, Oliver, Cutter John, and all the rest.
About the Author
---
Berkeley Breathed lives and works in Santa Barbara, California and is the proud owner of a gentle pit bull named Ridley, a deaf dachshund named Milly, and a refugee mutt from the Puerto Rican streets named Pilar--splendidly flawed dogs, every one.
Praise For…
---
The third in the five-volume series reprinting the entire Bloom County run shows the strip at the height of its irreverence, with Opus and the rest of the gang settling nicely into their foibles. Memorable highlights include a Meadow Party bid for the White House ("For a Weirder America"), a revamped schnoz for Opus (New Coke, anyone?), the too-brief life of Oliver's Mac-parody Banana Jr. 6000, and Bill the Cat selling national secrets to the Soviets. Annotations help sort out some of the more topical lampooning, but Breathed's ability to balance terrific gags with hearty doses of underdog charm remains timeless. --Ian Chipman