The Fifth Star: Ohio's Fight for Women's Right to Vote (Paperback)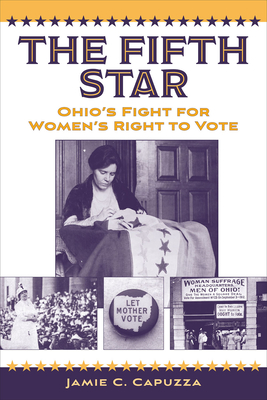 $28.00

On Our Shelves Now - May Be on Hold for Another Customer
Description
---
How Ohio's women were essential to the national women's suffrage movement
Conversations and legal battles surrounding voting rights, once again a topic looming large in the United States, reflect a long history of such debates and suffrage campaigns. The struggle for women's voting rights, in particular, required persistence in the face of defeat, and unbeknownst to most people, Ohio--the fifth state to ratify the Nineteenth Amendment--played a key role in the national women's suffrage movement.
Covering 70 years of the movement, from 1850 through 1920, Jamie Capuzza demonstrates that the tendency to overlook the contributions of Ohio suffragists dates back to the earliest years of the movement. Ohioans were the first to petition a government for women's enfranchisement, and Ohioans helped build the infrastructure for the movement by forming the nation's first state women's rights organization and by hosting two of the earliest national women's rights conventions.
Many of the movement's early leaders were Ohioans, including Frances Barker Gage, a movement leader since the 1850s who was among the first to emphasize the inherent connections between gender and race by linking women's suffrage to African American suffrage; Victoria Claflin Woodhull, a stockbroker, newspaper publisher, and radical activist who was the first woman ever to address the US Congress or to run for the US presidency; and Harriet Taylor Upton, president of the Ohio Women's Suffrage Association longer than any other woman and executive in the National American Woman's Suffrage Association, who hobnobbed with presidents and congressmen. Also among the leadership were African Americans with Ohio connections such as Mary Church Terrell, Frances Harper, Julia Cooper, Hallie Brown, Jane Hunter, Carrie Clifford, and Jewelia Higgins.
The Fifth Star describes these determined leaders, their agenda, organizational capacity, and political engagement. Drawing on extensive historical records and primary sources, including suffrage convention proceedings, state senate and house reports, local mainstream and feminist media, and the personal letters and diaries of Ohio reformers, Capuzza details this fight in the context of the national women's rights movement and parallel reform movements like abolitionism and temperance. The Fifth Star is a story of remarkable perseverance and determination in pursuit of the most fundamental right in a democracy, the right to vote.
About the Author
---
Jamie C. Capuzza is a professor in the Department of Literature and Communication Arts and directs the Gender and Sexuality Studies program at the University of Mount Union in Ohio. She has been published in several academic journals and books, and her coedited volume, Transgender Communication Studies: Histories, Trends, and Trajectories, has won three national awards.