How to Become a Really Good Pain in the Ass: A Critical Thinker's Guide to Asking the Right Questions (Paperback)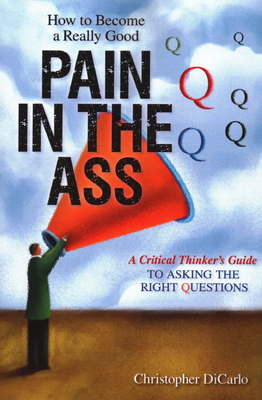 Description
---
In this witty, incisive guide to critical thinking the author provides you with the tools to allow you to question beliefs and assumptions held by those who claim to know what they're talking about. These days there are many people whom we need to question: politicians, lawyers, doctors, teachers, clergy members, bankers, car salesmen, and your boss. This book will empower you with the ability to spot faulty reasoning and, by asking the right sorts of questions, hold people accountable not only for what they believe but how they behave.

By using this book you'll learn to analyze your own thoughts, ideas, and beliefs, and why you act on them (or don't). This, in turn, will help you to understand why others might hold opposing views. And the best way to change our own or others' behavior or attitudes is to gain greater clarity about underlying motives and thought processes.

In a media-driven world of talking heads, gurus, urban legends, and hype, learning to think more clearly and critically, and helping others to do the same, is one of the most important things you can do.
About the Author
---
Christopher DiCarlo, PhD, (Guelph, Ontario) is an award-winning lecturer on bioethics and philosophy of science. He is a fellow, advisor, and board member of the Society of Ontario Freethinkers and the Center for Inquiry–Canada. He is a past visiting research scholar in the Stone Age Laboratory at Harvard University.
Praise For…
---
"Teaches how to analyze your own thoughts, ideas and beliefs, and to understand why you act on them, as well as understanding others who might hold opposing views. In this regard, it can open doors to your mind that are extremely helpful."
-Bookviews

"This comprehensive, lively and entertaining book...could become the foundation for a course in critical thinking. It provides a solid introduction to elementary logic, epistemology, the philosophy of religion and findings in evolutionary biology and biosociology.  Recommended."
-CHOICE

"Offers a fun yet specific approach to developing critical thinking processes and provides tools that allow readers to identify and question assumptions and belief systems."
-Midwest Book Review